How to cook lentil soup with bacon: step-by-step recipe from Gregory Herman
Today, 12:22
The recipe for hearty lentil soup
Irina Peacock
the editor of the Food
Lentil soup with vegetables and bacon – a very simple, quick and delicious. It may be cooked in a matter of minutes.
Step-by-step recipe for lentil soup with the video from Scott Herman, presenter of the program "Ranok z with Ukraine" on TV channel "Ukraine", see below.
Lentil soup with bacon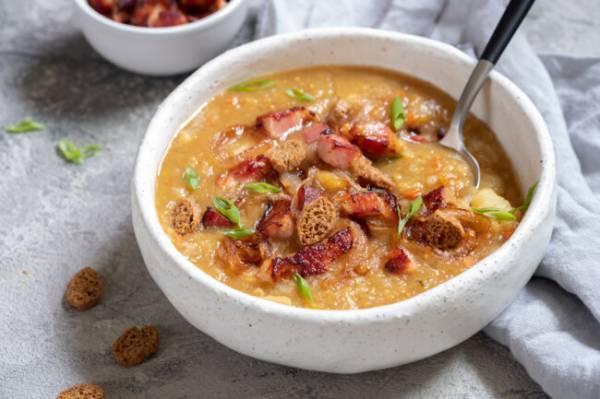 Lentil soup Photo: Depositphotos
Cooking time:
Calories:
Ingredients:
1 bell pepper
1 carrot
1 onion
2 cloves of garlic
200 g red lentils
200 g bacon
200 g of potatoes
150 ml of tomato juice
Water
Salt, pepper
Olive oil
Mint
Method of preparation:
Fry thin strips of bacon until Golden brown. Put on a Board and chop.
The fat has melted, saute the chopped vegetables: onion, garlic, carrots.
Put zazharku in the pan. Add the bell pepper and the sliced potatoes, fry a little.
Add the lentils, stir and pour the boiling water from the kettle. Cook until potatoes are done.
Add salt, pepper. Part of the soup, transfer to a plate, and the part in the pan chop the blender. Pour in the tomato juice.
Mix both parts of the soup.
How to serve lentil soup
Sprinkle the soup with olive oil and garnish with chopped mint.
Earlier, we wrote how to cook lentil soup, mushrooms and beans. Today.Lifestyle also shared a recipe for lentil salad with pear.
Comments
comments