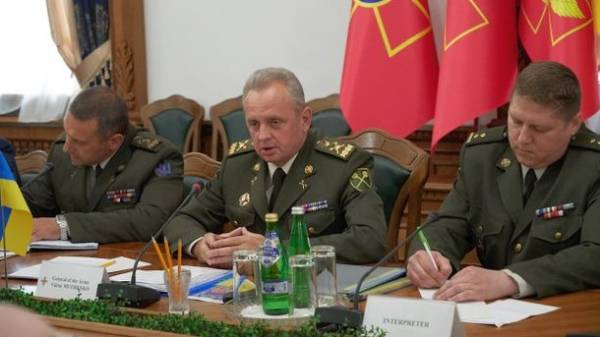 Chief of the General staff of Ukraine Viktor Muzhenko met with the acting Deputy assistant Secretary of defense for international security policy Laura Cooper, with whom he discussed the Ukrainian-American military cooperation, the press service of the defense Ministry.
"We are grateful for the constant attention of the US government to the situation in Ukraine, assistance and support. Advisory assistance from American advisers and training personnel, with the participation of American instructors, greatly enhances the Armed forces of Ukraine. We feel this help and really appreciate it, – said Muzhenko.
SEE ALSO
USA will give Ukraine armored "humvees" – Majenko
For example, he noted that during the war in Donbass, the United States has provided Ukraine military aid to $ 600 million.
"Since the beginning of 2014, the U.S. side transferred for logistical assistance and spent on preparation of the armed forces of Ukraine more than $ 600 million. In the framework of the activities only a combined group for the preparation in Ukraine prepared by the seven battalions of the Ukrainian Armed Forces, are currently training another battalion. In General, International centre for peacekeeping and security in 2015 were trained by American specialists nearly 4 thousand Ukrainian servicemen and 104 of the instructor," added the chief of staff.
As stated yesterday, the U.S. state Department, Americans are not in the process of providing Ukraine defensive weapons, however, not exclude that it is possible in the future.
Comments
comments