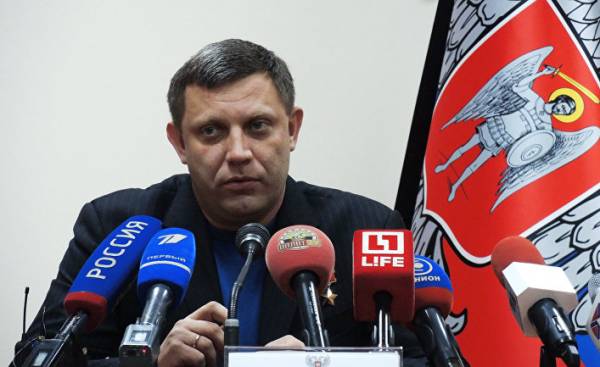 The self-proclaimed head of the DND Alexander Zakharchenko announced the formation of a new state Ruthenia with its capital in Donetsk and flag of Bohdan Khmelnytsky.
Zakharchenko sees little Russia within the boundaries of the whole of Ukraine except Crimea, its Constitution — the non-aligned status and work towards restoring ties with Russia, and the refusal of debt repayment of the current authorities.
The news of the creation of the Ukraine surprised everyone from samoprovozglashennost LNR to Russia and Germany. Kiev sees the Abkhazian scenario, Lugansk distanced himself from this idea, questioning its appropriateness, Moscow tells about the contradiction of the Minsk agreements, while Europe condemns.
They think themselves the inhabitants of the DNI? Корреспондент.net collected the opinions of Donetsk.

To change the passport and to pay debts of Kiev
The part of the citizens of Donetsk, which seriously took the news about the formation of the Ukraine, complains that once again have to stand in queues for new passports and car kits rooms.
They say that this flue diagram for the "sawing" of money on new documents.
Many Donetsk residents have Volnova question whether they will have to pay Kiev's debts to the IMF and whether to change rubles into hryvnia.
The war with LC or return to Ukraine
That wants to take Donetsk, Lugansk, say for a long time, and now this assumption has resurfaced. Some also allow the war between the DNI and the LC.
Also popular opinion that the region thus wants to return to Ukraine. A joke write about the need of trousers, donuts, embroidered towels and other attributes of Ukrainian culture.

This is good and expected
Some residents of Donetsk support the idea Zakharchenko of Ukraine. Most of them respond positively to the Association with LC, but also expect that the final point of entry into the Russian Federation.
Many are tired of the lack of change, so I am glad at least some progress. Much rarer are those who directly speaks about the reluctance of change, not jokes.

Nonsense and populism
The lion's share of commentators from Donetsk ridiculed the statement of the head of the DNI of the establishment of Ruthenia.
They write also that this is ill-conceived and stupid populism, or suggest to eat.
Comments
comments