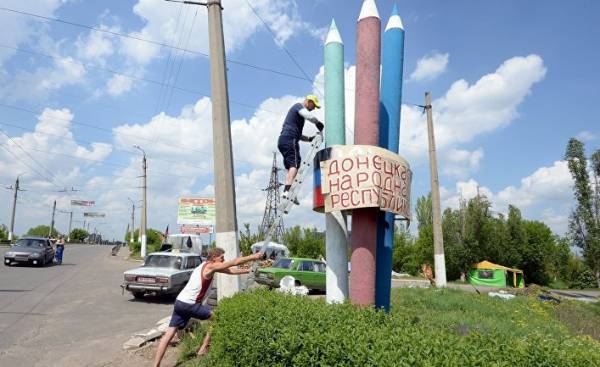 When Zakharchenko, and with it of the eight regions of Ukraine failed to make the Russians, they decided to make a "proper Ukrainians".
With the announcement of "the Ukraine" Ukrainians are now recognized by the Russian propaganda as a separate people, not "Russian — only in profile", but now are distributed on a "right and wrong".
The correct Ukrainians like Kozhedub and made the Soviet space.
Wrong they crucified the boy to accept the Volyn massacre.
Correct Ukrainians won, together with Russian world war II, wrong — helped Hitler lose the Second world war.
The correct Orthodox Ukrainians, and the wrong — Uniates, and no wonder they Khmelnitsky cut (flag, "little" declared the flag of Khmelnitsky).
This means that the leadership recognized "the Russian project" in Ukraine failed, and decided to make a bet on the "Soviet project", trying to sway 9-12 million Ukrainian soft "wool" by appeals to the Soviet understanding of "Ukraine" and nostalgia for the glorious industrial era.
Now it is necessary to wait for a song contest named after Shevchenko in Donetsk DK.
The Kremlin finally realized that the "Russian world" is not accepted in Ukraine, even the most cotton of cotton because they have the Ukrainian quilted jackets, has its own design — white-blue "(the ideology of the former "Party of regions").
Now "collective Surkov" is trying to use former electorate "PR" under its own geopolitical needs of the Kremlin.
Waiting for the corresponding activation of their speakers in our media space.
Main messages:
— Ukraine is a beautiful self-sufficient country, which once produced space ships and nuclear aircraft carriers,
— we should be proud of the achievements of predecessors, the fathers and grandfathers that we have built
— need new industrialization,
— need a new dialogue in Lviv and Donetsk, and the Union of all honest people who remember what "real Ukraine" and "go To fight some "old",
— we need neither Russia nor the West, we can do by playing on their contradictions,
Ukrainian soldiers and officers — the descendants of heroic warriors, Vladimir, Bogdan, squadron commander Titarenko, they should not participate in a fratricidal war in the East, which sends their criminal power, sold to the Western giants,
— it is necessary to stop the war, where Ukrainians kill Ukrainians,
— criminal anti-Ukrainian government wants to sell us all the IMF,
— from Russia still can not escape, we must restore economic ties, and to provide assurances of not joining NATO, but remain a strong, independent government.
In this regard I want to appeal to Ukrainian men:
"Dear compatriots!..
All that you hold dear and is the best part of your soul, for the Kremlin — just a tool.
At first they used to Donbas romantics Imperial idea, for which there is only one and indivisible, and there are no Ukrainians.
Then they had shot.
Then they used Donbas romantics "Russian world", for which there is Donbass part of Russia, and dill — even die themselves.
Then they ran — in the fields in front of the positions of Ukrainian troops.
Now they want to use "proper Ukrainians" to build "the right of Ukraine".
It you nostalgic for "Spring on Zarechnaya street", and they are counting on it.
Exactly the same thing they are doing in Syria, where the Assad — that they, not their depending on the current situation.
Tomorrow they may be reconciled with the "expensive overseas partners" and ending will begin you.
The Kremlin is not and cannot be partners. He may have only goals and instruments.
In three years of war against Ukraine, they are third time to change tools.
And replacing tools is both a frame replacement. How Russia is changing frames — ask Motorola.
Be smart, do not go on about the Kremlin, play your game.
Here in Ukraine, we are always able to understand what Ukraine is and why we need it.
You have enough mind and conscience not to succumb to the "Russian world", I believe, enough to not to succumb to "Ukraine Proper", which was created in the Kremlin.
And "Darkie"!"
Comments
comments