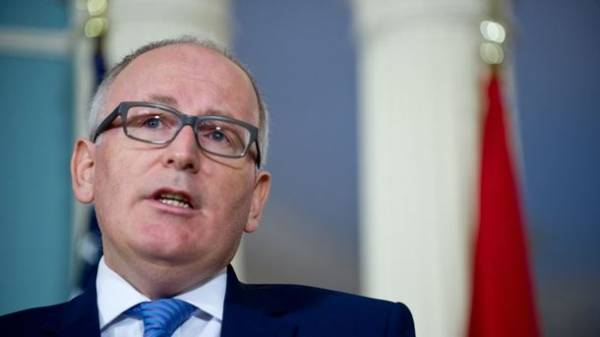 Hungary is demanding the resignation of the first Vice-President of the European Commission Frans Timmermans, who accused the Prime Minister and the government of anti-Semitism. This was stated by Minister of foreign Affairs and trade of Hungary Peter Szijjarto, the press service of the Hungarian government, reports "Ukrainian truth".
Szijjarto denied the accusation, calling it unjust and unacceptable, stressing that Hungary "has done more than anyone in Europe to combat anti-Semitism."
According to the head of the foreign Ministry, the prosecution of Frans Timmermans was a brutal insult to Hungary, "and if the official EU seriously offends the member state with such a question, then he has no choice but to resign".
Szijjarto also called the Vice-President of the EC a coward, saying that his "baseless accusation", published in an interview with German newspaper Die Zeit, was not made directly to Viktor Orban, and later, when he could not answer it immediately.
In an interview Timmermans agreed with the assumption of anti-Semitic motives of the government of Viktor Orban, which he followed, taking a controversial law on education that allows to close the Central European University, founded by billionaire George Soros.
"The government of Hungary will undoubtedly have serious problems with George Soros, and George Soros is clearly wants to drop the current Hungarian government, but these contradictions have nothing to do with the origin or religion of George Soros," said the Hungarian Minister.
We will remind, on April 26 the European Commission has opened proceedings against Hungary over the newly enacted law on education, which, in particular, threatens the closure of Central European University in Budapest.
As you know, the President of the European Commission Jean-Claude Juncker insists on holding intra-party discussions about the possibility of excluding the Prime Minister of Hungary Viktor Orban member of the European people's party (EPP) for his policies which, in the opinion of the institutions of the European Union, is contrary to European democratic values.
Comments
comments