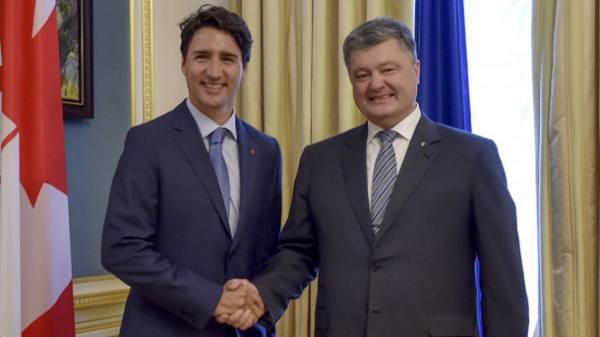 The President of Ukraine Petro Poroshenko congratulated the Prime Minister of Canada Justin Trudeau on the occasion of the 150th anniversary of Canada. About it reports a press-service of the Ukrainian President.
"On behalf of the Ukrainian people and myself personally I cordially congratulate You and all the people of Canada the 150th anniversary of Canada. We are proud to share a festive moment of this significant date, in particular remembering the contributions of Ukrainians in the creation of identity and cultural diversity of the canadian people, given that the first Ukrainians settled in Canada 125 years ago," – said Petro Poroshenko.
The Ukrainian head of state reminded that the Ukrainian Canadians – whether Philip Konoval, knight of the Victoria cross for participating in the battle of hill or Jaroslaw rudnicki, one of the most prominent advocates of the canadian policy of multiculturalism has always dedicated his achievements to strengthen the Foundation of Canada democratically strong and economically prosperous and culturally harmonious.
"At that time, as we share deep historical roots and family connections, I am glad that the special partnership between our two countries and the sincere friendship between our peoples is also backed by a strong devotion to freedom and democracy, and overwhelming desire to live in a Free world" – said in greeting.
Petro Poroshenko expressed sincere gratitude for the personal commitment of the head of the canadian government and the strong position of Canada in respect of the sovereignty and territorial integrity of Ukraine. "Ukraine always feels full support from Your country – recent examples of which is the signing of the Agreement on cooperation in the defense sector or free trade Agreement", – he said.
The President also noted that last year's meeting with the Prime Minister of Canada has demonstrated a huge potential for the deepening of partnership relations between our countries, which rely on the steady adherence to common values and ideals. "Working together to continue breaking down barriers between our peoples, we will be able to reach new achievements in all spheres of bilateral cooperation", – says the head of state.
Petro Poroshenko wished Justin Trudeau good health and success in future endeavours as well as peace and prosperity of the people of Canada.
The President also sent a congratulatory message on the occasion of the 150th anniversary of Canada Governor General of Canada David Johnston.
As reported, from August 1, will start operating a free trade Area between Ukraine and Canada.
Comments
comments