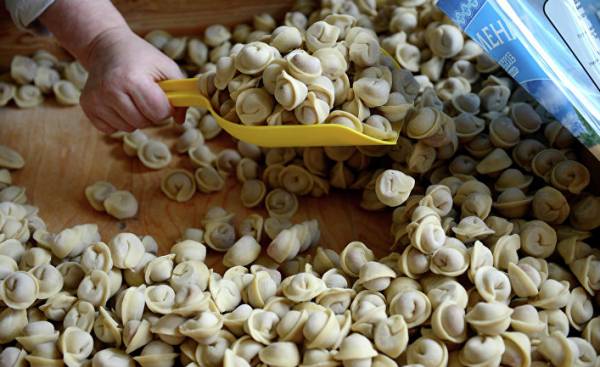 We visited the Ural is the Motherland of traditional Russian food.
Dumplings, steamed pouches of dough stuffed with meat is one of the most important dishes of Russian cuisine. The traditional dumplings made in the Urals, which is considered their homeland.
Olga Efimova, a native of the capital of the Urals Ekaterinburg, learn to sculpt dumplings with his grandmother. Now she makes them with her grandchildren.
"We certainly do Ural dumplings. Most often they are eaten with sour cream or mayonnaise. I like more spicy taste, I eat dumplings with mustard," laughs Olga Efimova.
The filling for traditional ravioli made from pork and beef minced meat. In other regions of Russia in the dough put the venison, pike or mushrooms.
Dumplings can be eaten as a dessert. Then the dough can be put curd or cherry jam. As well as filling, form the dumplings can be different.
Traditional food for everyday and holidays
Homemade ravioli was considered a traditional dish of the Russian festive table. Now, however, frozen dumplings — the most common everyday foods.
Despite the reputation of Slavic origin, dumplings seem to have been borrowed by the Russians with Finno-Ugric festive table.
This story and many other dishes that are now considered traditional in Russia. For example, say that borscht originated in Ukraine, and the barbecue — creation of the Turkic peoples.
Dishes such as dumplings, eat not only in Russia. Best of all Finns are familiar with the Italian ravioli. His "dumplings" is, for example, the Chinese (wonton), Georgians (khinkali), Uzbeks (dumplings).

Recipe Ural dumplings
Dough:
3 cups whole wheat flour
1 Cup of room temperature water
1 egg
½ Teaspoon salt
Filling:
500 grams minced pork
500 grams of ground beef
1 onion
Salt and pepper
Mix the ingredients for the dough. Let the dough stand at room temperature in a sealed container for half an hour and in the meanwhile prepare the stuffing. Finely chop onion, mix all the ingredients for the filling.
Roll out the dough with a thin layer. Cut dough with glass or round pancakes. Put in them in about a teaspoon of the filling. Firmly close the "pouch" of the dough with your fingers to get the Ural shape resembling a Crescent.
When all the dumplings are made, place them in a large pot of boiling water. In boiling water can be put not only salt, and Bay leaf. Cook the ravioli for about seven minutes — until tender.
Remove the dumplings with a slotted spoon from the boiling water and serve them to the table with salt, black pepper and sour cream. The dumplings are very good with rye bread.
The finished dumplings can freeze and cook later.
Comments
comments