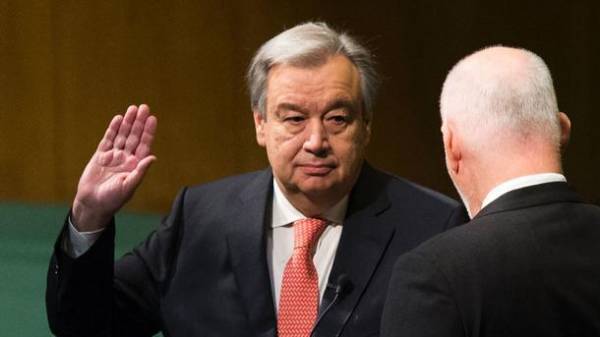 Permanent representative of the Russian Federation to the international organizations in Vienna Vladimir Voronkov appointed to head the new UN office for combating terrorism to the status of Deputy Secretary-General. This was reported on the official website of UN TV channel "112 Ukraine".
"UN Secretary-General antónio Guterres appointed Vladimir Ivanovich Voronkov of Russia Deputy Secretary General", – stated in the message.
It adds that he will head the newly established office for combating terrorism established by General Assembly resolution 71/291 of 15 June 2017.
In particular, in his new post, the Russian diplomat will "provide strategic guidance to the UN on combating terrorism, to participate in the decision-making process of the organization and to ensure that the origins and consequences of terrorist activities are reflected in the activities of the UN."
We will note, in February of this year, UN Secretary-General antónio Guterres has proposed to create in the Organization a new Office for counter-terrorism under the leadership of Deputy Secretary General. According to him, the new Office will play a leading role in fulfilling the objectives of the Secretary-General laid of the member States of the UN will be to provide the necessary support to countries in their counter-terrorism activities and to ensure the transparency of the Organization's activities for combating terrorism and the mobilization of resources.
On 16 June, the UN General Assembly unanimously approved the establishment of the office of the world organization for combating terrorism.
Comments
comments