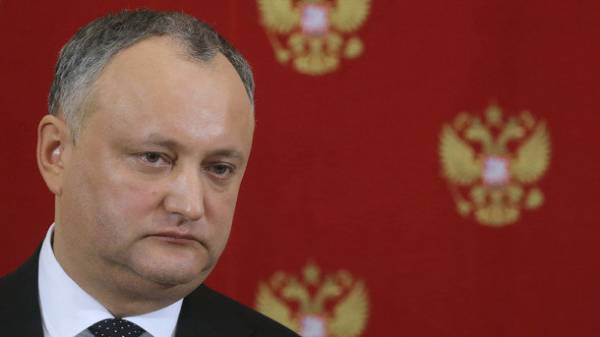 The President of Moldova, Igor Dodon, stated that they initiated a consultative referendum, including the question of giving the head of state's extra constitutional powers to dissolve Parliament, take place.
"Scheduled for 24 September, the referendum will be held. I will insist on this as it is a consultative referendum, the President has the right to know the opinion of people," he stated to journalists on Monday, commenting on the decision of the Venice Commission of the Council of Europe concerning the change of the electoral system of Moldova and the extension of powers of the President to dissolve Parliament.
"Let's see what will be the opinion of the people, but I firmly believe that it will be positive. We will then find the best, according to the European practices, the formula for the President dissolved Parliament and the country held early parliamentary elections", – said the President of Moldova.
As reported, the Venice Commission critical of bill to change the electoral system. The Commission recognized that changes to the system "is the sovereign right of the country", but not recommended to carry out reform without a broad consensus.
At the same time, the Venice Commission considers it inappropriate legislative initiative of the President about expansion of powers of the head of state to dissolve Parliament. The Commission also noted that "the conduct of the Advisory referendum that has no legal consequences, is inexpedient".
In April he appointed the date for the September 24 Advisory referendum on four questions, including question on support of giving the President extra constitutional powers to dissolve Parliament and call early parliamentary elections.
According to the legislation, the President has the right to initiate Advisory and not a constitutional referendum. In addition, according to the law, the President should apply to Parliament, which is considering the President's proposal and adopt a special law on the procedure of holding a referendum, its funding, organization and the date.
Comments
comments