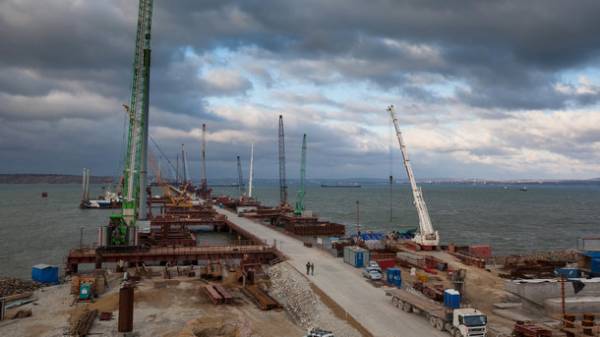 Russian President Vladimir Putin said that the construction of the Kerch bridge to occupied Crimea is on schedule and even slightly ahead of him. He said this during a "Straight line", the "GORDON".
He expressed confidence that the construction will end exactly on time with proper quality.
"Kerch bridge is built in accordance with the schedule, even a little ahead. I am not going to talk about this lead, but at the moment there is no doubt that all the plans in time will be implemented with due quality," – said Putin.
Bridge length of 19 km will become the longest in Russia. The Ministry of transport of the Russian Federation declared that will ensure the opening of traffic on the Kerch bridge by December 2018, and the movement of trains by 2019-mu.
It is built at the expense of the Federal budget. The total project cost is around 228 billion rubles (nearly 4 billion dollars). In December 2016, the senior researcher of the Institute of water problems, Russian Academy of Sciences Yuri Medovar said that the construction of a bridge across the Kerch Strait is being without the project, and the bridge will collapse, even if it will be possible to build.
In March in the Kerch Strait of the raging storm, which destroyed part of the bridge occupants. Design, which was to protect the bridge from the waves, was carried into the sea.
Comments
comments