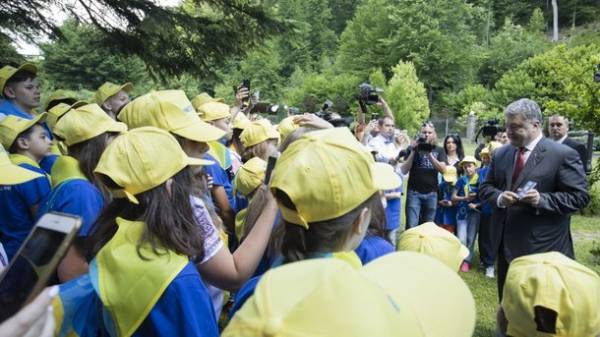 Ukraine will be an EU member, when today's students become adults. This opinion was expressed by President of Ukraine Petro Poroshenko during a meeting with children who go on vacation to Hungary in the framework of the Book is good, the press service of the President.
In addition to Poroshenko, the children met his wife Marina and President of the Slovak Republic Andrej Kiska.
"This is the future of Ukraine. I am sure that when they become adults, Ukraine will be a member of the EU. We're all going to do: we will change the country, we will defend our country, we will defend democracy, freedom and will", – said Poroshenko.
The majority of pupils-participants of the project – the children of the Ukrainian military who took part in the fighting in the Donbass.
The press service noted that with the support of the Ministry of foreign Affairs of Ukraine and the Hungarian government for the fourth consecutive year in Hungary, going on summer recreation for children from families with members fighting in the Donbass, displaced families, poor families and gifted children from different regions of Ukraine.
From 11 June to 26 August this year will make 700 children directly from the territory of Eastern Ukraine and the families of combatants. The first group of 112 children from 8 to 15 years will arrive in Hungary on vacation on June 11.
Recall, today, June 11, entered into force the decision of the Council of the European Union on visa-free regime for short trips of Ukrainian citizens in 30 countries of the European Union and the Schengen area.
Comments
comments