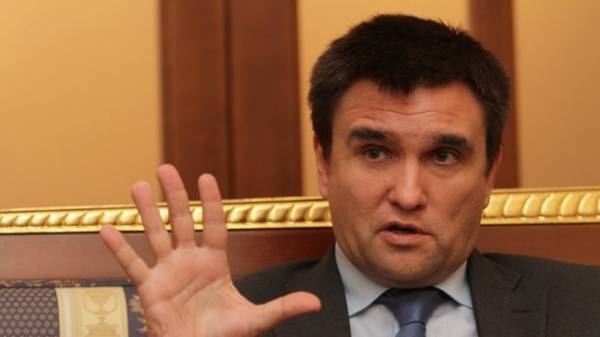 In the near future can take place the meeting of President of Ukraine Petro Poroshenko and the President of France Emmanuel Makron. About etomsoobschili foreign Minister Pavlo Klimkin, transfers TV channel "112 Ukraine" .
Pavlo Klimkin said that now there are very intensive consultations with the German and French partners on the meeting in the "Normandy format":
"Go very intensive consultations with our German friends, French friends, I recently spoke with French Minister of foreign Affairs, the planned meeting in the near future, it is not excluded at the same time a trilateral meeting with the German Minister of foreign Affairs," commented the Minister.
"The President is also in close contact, I think, in the near future he will meet with the newly elected President of France by a Macron, as before to move, it is necessary to achieve coordination between the three of us, but we understand that without engaging with the United States decisive progress is difficult to achieve", he added.
"I discussed it during his last visit to Washington and during a meeting in Brussels with Tillerson, they are defined: or to work in parallel format with elements of close coordination, or it will be other things to do, unfortunately, just can't say, but while working in real time, there is a very creative solution," – said Klimkin.
Also Pavlo Klimkin expressed his opinion that Russia will not stop its aggression in the Donbas.
"Let's be honest – Moscow will not stop. They have the design of the Donbass as a Russian colony or protectorate is extremely important. But not because she is interested in the Donbas, but because he wants to destroy our European and democratic project, as in the case of our success, no chances of the Russian project", – said Klimkin.
Comments
comments