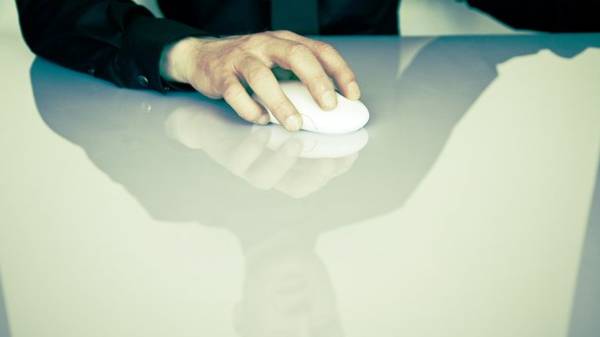 E-mail services, social networks, payment systems — lock raised a lot of tools that were previously used freelancers. Freelancehunt analyzed available data about the used services and conducted a survey of experts. Their opinions were divided: someone planning to replace the services of Russian companies on the Ukrainian or international counterparts, some will continue to use them on.
Lock payment system "Yandex.The money" will be felt by a few in the first half of 2017 for funds used less than 3% of freelancers. For comparison, in mid-2015, this figure was at 8%.
But blocking social networks and email services more tangible.
When you register for the freelance exchange freelance identify the mailbox and tie their social profiles. The analysis of these data showed that among the highest mailbox number is blocked Russian (44.7 per cent). Among them mailbox group Mail.ru — 32.1%, and Yandex is 12.6%.
The second largest share is from the international, they are used 40.5% of freelancers. Most of them use Gmail from Google — 39,2%, much less Yahoo mailboxes (0.6%) and Hotmail (0,5%). Ukrainian postal services in third place with a share of 10.7%. Most popular Ukr.net (7%), less share I.ua (2,1%), Bigmir (0.8%) and Meta (0.8 per cent).
If we talk about social networks that are used by freelancers, the total share of international two times more than the share of the social network VK. However, if we talk about them separately, then VK has a strong lead — it is used by 36.3% of users. Facebook in second place with a share of 26.7%. Followed by Google Plus (19,3%), Twitter (8.8%) and Linkedin (8.7 percent).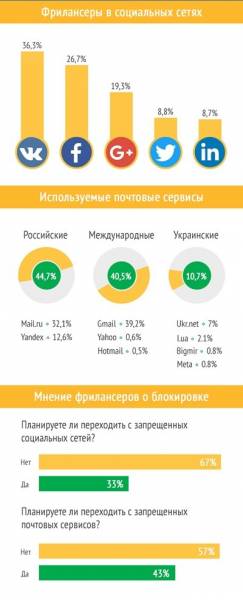 "Freelancer survey showed that the majority do not plan to move from blocked social networking (67%) and email services (57%). Among those who want to change the mail service, most are choosing Gmail (90%), some are planning to use a Ukrainian services, the largest share of these – go to Ukr.net" — said the founder Freelancehunt Oleg Topchiy.
Comments
comments