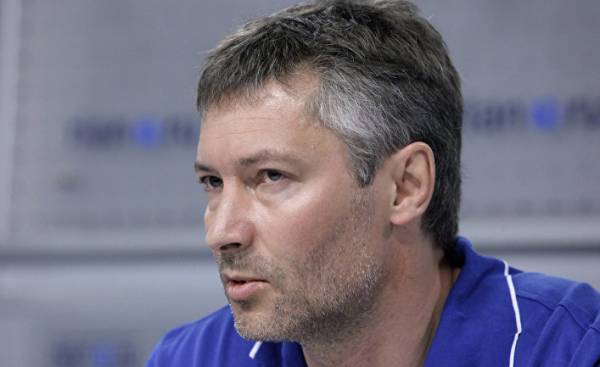 According to him, during training he had problems with his knees, but then he changed his old sneakers for running shoes for running on asphalt. "I lived for two months in these shoes," says Yevgeny Roizman on the preparations for the 42-kilometer race. "And my weight has dropped from 104 to 97 kg. And nothing more."
Yevgeny Roizman, 54 years old, is probably the most athletic Russian mayor. Swimmer on long distances, the pilot at the rally, and weightlifter. In 2015, he ran his first marathon. The blue-eyed hero with silver-streaked forelock; the suit he prefers faded jeans and a t-shirt, but his diver's watch Shine like gold. Cool type smoothie, very vain and Yekaterinburg, besides, is a folk hero. Monday on his Facebook page, he announced his intention to run for Governor of the Sverdlovsk region. "I have never lost election here," said he. One of the rare oppositional winners of the elections in Russia.
In 2003, Roizman as an independent candidate from the Sverdlovsk region Ordzhonikidze received a direct mandate in the state Duma. His re-election in 2007 have failed because elections in single-member constituencies abolished. And because the party "Fair Russia", which he wanted to present, suddenly struck him from their lists. It was assumed that this was done by order of the Kremlin. However, in 2013 he won the mayoral election in Yekaterinburg, despite a massive antineutrinos campaign in the state media.
His father was a teacher, a son at the age of 14 left home as a teenager she went to two years in prison for theft, but that he said proudly: "Every intelligent Russian at least once in a lifetime must serve in prison." Roizman made a fortune as a trader of jewelry, he collects icons and writes poetry, but the fame he acquired as a fighter against drugs.
In 1999, he founded — together with some like-minded people from Yekaterinburg Fund "City without drugs". They created rehabilitation centers where they practiced hard treatment. Beginners end up behind bars, instead of replacement therapy were given a garlic. The "City without drugs" works very transparently. "You show everything," cursed he the foreign press. "But you still write only mischief."
Families of his players to support his methods. It is incorrect from the political point of view verbal attacks only increased the popularity of Roizman. But he also protested against the processes that are initiated against liberal opponents of Putin. He is considered a populist in power. Every day he takes the protesting truckers, fathers engaged in job search, small businesses seeking loans, or HIV.
On elections of the mayor Roizman gained more than 30% of the votes, 1.5 million city of Yekaterinburg. With similar results in the Sverdlovsk region, it could create enormous difficulties the current Governor. "Even if Roizman does not win, his participation means that until the end of the race, participants will be ready to go to the head," said political analyst Yevgeny Vinogradov. "I'm tough," says Roizman.
Comments
comments