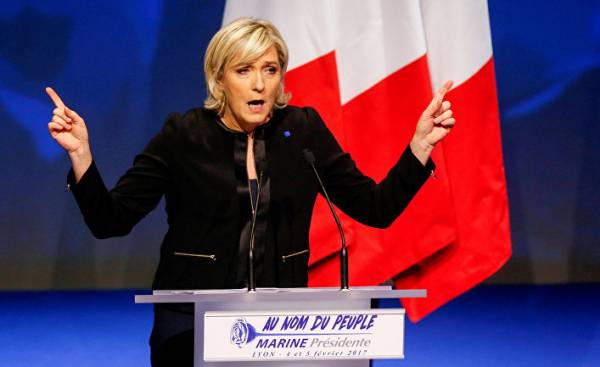 Paris — right-Wing candidate for the French presidency, marine Le Pen on Tuesday said she has better features than its rival, the centrist Emmanuel macron, to protect the interests of France in the "new world" US President Donald trump and the Russian leader Vladimir Putin.
Le Pen, opposes the "uncontrolled globalization", hoping that the same nationalist, utilitaria mood, which led trump to the White house and forced the British to vote for secession from the Union, let her be the first woman President of France.
She calls the Macron, a former investment banker, supporting membership of France in the EU, a puppet of the banks and the elite. "I think I have the best opportunities to speak to this new world, to speak with Putin's Russia, the United States of trump, Britain (Prime Minister Theresa) may… to talk with India (Prime Minister Narendra) modi," said Le Pen.
According to her, due to the fact that "all these countries to a greater or lesser degree turn away from the ideology of free trade, competition, and undermining of social protection." "So I feel much more inclined to their political philosophy than to the ideology of the (German Chancellor Angela) Merkel," — said Le Pen Reuters in his campaign headquarters.
Behind the leader of the far right was the French tricolor and a poster with the slogan "Choosing France."
According to opinion polls, Le Pen is coming to a decisive second round of the presidential elections as an outsider. Although workers in regions with low incomes support its policies of economic nationalism and tough rhetoric calling for withdrawal from the EU, Le Pen failed to increase its ranking in major cities. Macron calls her a demagogue and raised in the castle of a wealthy heiress with no experience outside of far-right politics.
Answering the question about what she thinks about the obstacles faced trump in the first 100 days of his presidency, including the failure of the bill on health care reform in Congress that was one of the main election promises of the American leader, Le Pen said: "This suggests that the establishment is there and trying to deal with the democratic outcome (the will) of the people. It is seen that part of the system is combined so as not to give Donald Trump to implement the measures chosen by the people".
Comments
comments