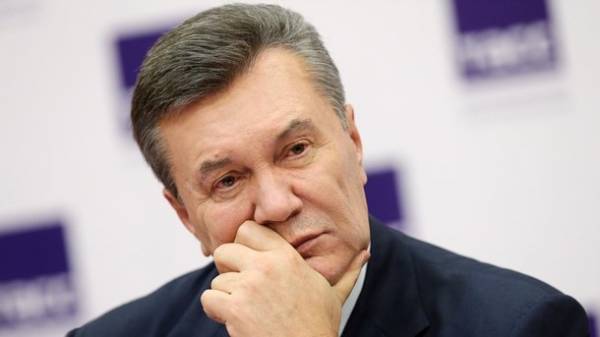 The General Prosecutor of Ukraine (GPU) have shown a document proving that the confiscated from the entourage of former President Viktor Yanukovych, the $ 1.1 billion awarded to the state budget. A copy of the document is available to "Ukrainian truth".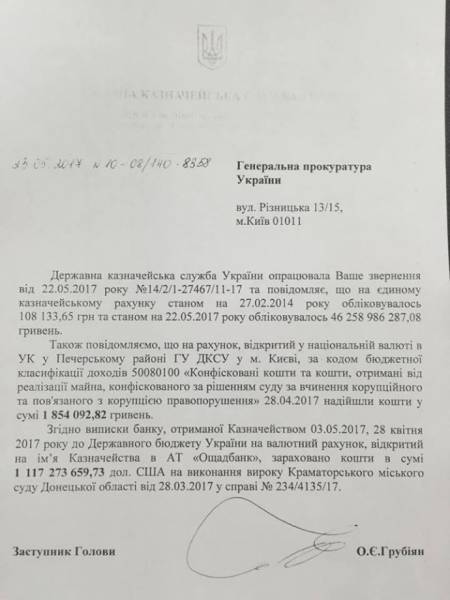 "In accordance with the statement of the Bank received by the Treasury may 3, April 28 in the state budget to the account in Oshchadbank enrolled 1 117 273 $ 660 in the execution of the sentence of Kramatorsk of Donetsk region court of March 28 in case No. 234/4135/17," said also in the State Treasury service.
It was also reported there, to the account opened in national currency under the code "Confiscated funds by court for committing corruption offences", 28 April 2017 received 1 093 854 hryvnia. It also indicates that the Treasury account as at 27 February 2014 was 134 108 grivnya and as of may 22, 2017, there have been 46 258 986 287 USD.
The Deputy head of the national Bank Oleg Churiy noted that now with the Treasury accounts in Oshchadbank confiscated dollars should flow to the Treasury account in the NBU and become part of the international reserves. "Today they are on the account of the Treasury. We expect to receive these funds in the near future. We believe that these funds should be transferred to the account of the Treasury of the National Bank and to be deposited in the international reserves", – quotes its words "UKRINFORM".
We will remind, earlier the court of Appeal of Donetsk region dismissed an appeal against the decision on special confiscation of 1.5 billion dollars of ex-President of Ukraine Viktor Yanukovych and his entourage.
In late April, Oschadbank began to special confiscation of 1.5 billion dollars of ex-President of Ukraine Yanukovych and his entourage by the decision of Kramatorsk court of Donetsk region
Comments
comments