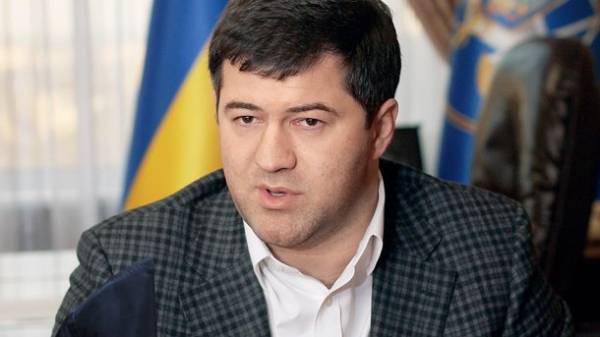 Specialised anti-corruption prosecutors say the state service for financial monitoring have checked the origin of the money for the Deposit on the dismissed head of the State fiscal service Novel Nasirova suspected of abuse of power. The service concluded that the sources of these funds, some of which made the wife Nasirov, part of his father-in-law, – legal. This was announced by the Prosecutor of SAP Simkiv novel.
About it reports "Radio Freedom".
Was this money paid taxes, have to check the State fiscal service, said Roman Simkiv in the premises of the Solomenskiy district court of Kiev, which today must consider the question of extending the measure of restraint Nasirova.
According to the Prosecutor, SAP asks the court to extend by two months the measure of restraint Nasirova.
As stated Simkiv, in particular, this applies to: electronic bracelet which must be worn Nasirov and his passports, which are now stored in the State migration service.
The Prosecutor also made a prediction that today's court session may be postponed.
At the same time Nasirov, who in March was released from prison on bail of 100 million UAH, declared that insists on the abolition of measures of restraint. He said he believes the case against him is political and "orchestrated".
According to Nasirov, he's not going to flee the country and intends to cooperate with the investigation.
Recall that dismissed the head of the SFS Roman Nasirov is suspected that in the period from may 2015 to March 2016 received a number of groundless and illegal decisions on the installment payments on rental payment for use of mineral resources involved in the so-called "gas scheme Onishchenko," which led to the application of a damage to the state totaling 2,019 billion.
On the night of March 7, Solomenskiy district court of Kiev chose Nasirova measure of restraint in the form of detention for a period of 60 days with an alternative of pledge in the amount of UAH 100 million. At the same time, Specialized anticorruption the Prosecutor's office asked the court to assign Novel Nasirova Deposit in the amount of 2 billion UAH.
The Kyiv court of appeals on March 13 upheld the decision of Solomenskiy district court Nasirova on election of a measure of restraint in form of detention for 2 months with the possibility of bail of 100 million UAH.
On the evening of March 16, Nasirova arrested for his wife posted bail of 100 million UAH.
17 Mar Nasirov was questioned NABOO.
Comments
comments