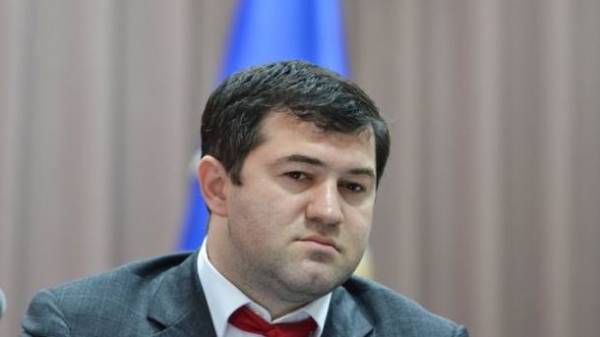 Solomenskiy district court of Kyiv began hearing on the issue of extending the measure suspended the head of the State fiscal service Novel Nasirova, Radio Liberty reports.
According to the report, the case considered by the judge Kitsyuk Victoria. Judge Alexander Bobrovnik, which was to hear the case, according to the Prosecutor, was ill.
"The court offered to postpone consideration on 9 a.m. Thursday. But the lawyers insisted on reviewing the case now, citing the fact that Nasirov tomorrow morning operation", – stated in the message.
As reported, the NAB suspects Nasirova that he in the period from may 2015 to March 2016 received a number of groundless and illegal decisions on the installment payments of rent for use of mineral resources involved in the so-called "gas scheme Onishchenko (moving abroad of the people's Deputy Oleksandr Onishchenko – ed.)" that caused damage to the state totaling 2,019 billion.
Nasirov is suspected of committing a crime under part 2 St. 364 Criminal code of Ukraine (abuse of official position, entailed heavy consequences).
On March 2, the detectives NAB declared suspicion in Commission of crime the head of GFS, and then carried out his detention in hospital "Feofania".
On the night of March 7, Solomenskiy district court of Kiev chose R. Nasirova measure of restraint in the form of detention for a period of 60 days with an alternative of pledge in the amount of UAH 100 million. At the same time a Specialized anti-corruption Prosecutor's office asked the court to appoint R. Nasirova Deposit in the amount of 2 billion UAH.
The court of appeal of Kyiv March 13, 2017 left the decision of the court of first instance unchanged.
On 16 March it became known that the wife of R. Nasirov has made him Deposit in the amount of UAH 100 million, he was released from custody. After that, Specialized anti-corruption Prosecutor's office announced its intention to petition for the sequestration of all the property of R. Nasirov.
As reported on Wednesday, SAP on the page on the social network Facebook, according to section 6 of article 194 of the Criminal procedural code of Ukraine, in case of need the term of a measure of restraint can be extended at the request of the Prosecutor.
"Specialized anti-corruption Prosecutor's office considers that the grounds for the election of the Roman Nasirova preventive measure remained unchanged, therefore, requests the court to extend the measure of restraint for a period of 60 days," – said in the EPS
Comments
comments