Experts called the TOP 5 most popular browsers 2020
Today, 12:42
Among popular browsers over the last 90 days was a real mastodon the computer industry in the face of Internet Explorer, not even Microsoft
Evgeniy Opanasenko
editor of Techno
Every year various private analytical companies are independent ratings of popularity of browsers. The results usually vary. But your results of the best browsers 2020 published by the digital Analytics program of the US Federal government (DAP), which contains statistics for the last 90 days on the territory of the United States. The results, though not tell us about the global usage of web browsers, but this information may show alternative results that are different from independent companies.
According to DAP, in the spring of 2020 the best web browser for the last three months, given the 4 billion visits were from Google Chrome with the index at 49.3% of the U.S. market. Apple Safari Google is breathing in the back with the figure is 31.6%. How Mozilla was able to gain such market share when macOS is only 9.3% of the world market of computers? The fact that the study used metrics of mobile browsers, since half of the online visits were made from smartphones (50%), whereas with the PC only 46.9% and residual of 3.1% occurred on tablets. In the US among all smartphone 29,5% are iPhone, and 23% used the devices based on Android.
In third place with a constant decline of interest from year to year remains of the once mighty Internet Explorer with the figure of 5.7%. Despite the fact that Microsoft urged users to abandon IE in favor of Edge for more than a year, some people still hold outdated browser. The most popular version is Internet Explorer 11, with 5.1%, and the hopelessly outdated Internet Explorer 7, which was not maintained for more than four years, still occupies 0.5% of the market.
Next comes a newly refined Edge, now based on Chromium open-source Chrome. Rebranding is not yet greatly helped him to gain popularity. Edge is only 4.2% of the U.S. market. However, according to the manufacturer's web metrics NetApplications, Edge finally surpassed IE 7.4% to 6.4%.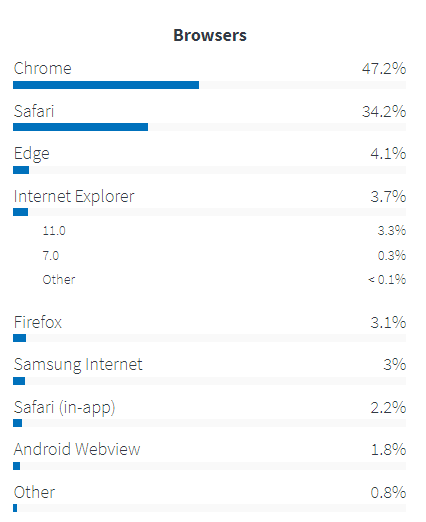 The best browsers in the U.S. Photo: Zdnet
The fifth line of the rating took Firefox that shows only 3.6% of the market. In 2015, the share of Firefox was 11%. By 2016, Firefox has fallen to 8.2%. In 2018, the browser briefly even gained popularity to 9%, but then its share has fallen almost 3 times. Although Firefox continues to improve the reliability and privacy is enabled by default, DNS-over-HTTPS (DoH) and increasing overall security, it continues to decline steadily. Even more disturbing is the fact that in mid-January, Mozilla, the parent company of Firefox, has dismissed about 70 workers.
Earlier, Google was pleasantly surprised by an incredibly useful feature in Chrome. The earlier the Microsoft Edge browser Google scared shitless.
Comments
comments