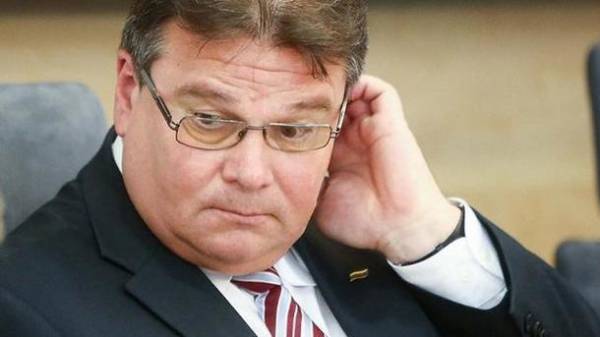 The Minister of foreign Affairs of Lithuania Linas Linkevičius, is convinced that the case against suspended head of the DFS of the Roman Nasirov and former ex-people's Deputy Mykola Martynenko will be an indicator of the effectiveness of anti-corruption authorities of Ukraine. About the same time the Lithuanian Minister said in Brussels, reports "UKRINFORM".
"Those who understand the situation in Ukraine, I can remember names such as Nasirov or Martynenko. This is the real deal (excited NABU – ed.) and everyone's watching, will they progress or not. And all watch it – and friends and enemies. This also is a definite indicator: structure (anti-corruption – ed.) exist, how they work, or are they the real deal, to eradicate the influence of the bureaucracy and the oligarchs in the society," – said the head of Lithuanian foreign Ministry.
According to Linkevičius, Ukraine is now the time has come when it is necessary to show the real results of the reforms initiated. "Time is not on the side of Ukraine", – said the Minister.
However, he commended the process of reform and combating corruption in Ukraine, noting that over the past three years has been done more than in the previous twenty.
We will remind, Roman Nasirov is suspected of abuse of office and embezzlement of public funds in the amount of over UAH 2 bn. The consequence considers that Nasirov, acting in the interests of the Deputy Onishchenko, the "gas business" were arbitrarily granted a number of enterprises the possibility of tax liabilities in installments.
Mykola Martynenko is suspected of involvement in the embezzlement of funds of the state company.
Comments
comments