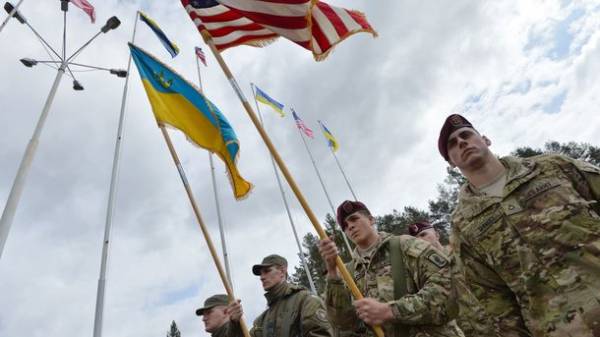 Since the beginning of the conflict with Russia experts, it was clear that NATO will not fight Russia for Ukraine. This was on the sidelines of the II Ukrainian forum on defense and security, said the representative of Ukraine in the security subgroup of the Trilateral contact group Yevhen Marchuk.
According to him, it is clear how and where it develops the cooperation with NATO. At the same time, according to Marchuk, I would like to know how NATO will resume cooperation with Russia (now it is frozen), there is bound to be related to Ukraine.
"As for our prospects, I'd like to ask the question, what is the prospect for Ukraine (with the understanding that we are in a war and annexed the Crimea) receiving mode map though. Because for us it's not just the children's interest, and that programmatic next steps the government and companies, and non-governmental organizations… NATO is now helping a lot in a pragmatic key, but have you seen some of the messages professionals who have long accompanied the NATO… it Seems said Pifer, a former U.S. Ambassador to Ukraine that NATO will not fight Russia for Ukraine. For professionals it was clear to me, by the way, from the very beginning that NATO is not at war. But for us it's kind of a surprise. And how not to fight? But I must say that the mechanisms of influence on Russia very much. Not only NATO, I mean economic sanctions, EU sanctions and the United States. But in principle I think I had some contacts with NATO officials for the last 2-3 months, it cleared up a lot. Especially after the terrorist attacks that occurred in Europe", – said Yevhen Marchuk.
The former head of the SBU cited the episode when the military counter-intelligence came to the Frenchman who bought the weapons and even transported it to conduct a terrorist act in France. "I remember very well, I even said it in public, how ridiculous is reacted, the French intelligence service, the Prosecutor of the district where the potential terrorist. Now (in their heads. – Ed.) much refreshed, that Russia can create for countries-members of NATO. In a military sense I don't think they have any data specifically military clash. But what Russia is doing in the Arctic overflights by Russian bombers, even in these days of Alaska, etc, Russia is demonstrating that it does not deviate from the point of view of voltage. It's clear that there is an understanding that it is best not confrontation with Russia, but rather to find a way out. But for now, Russia's behavior does not do it," Marchuk concluded.
Recall, NATO Secretary General Jens Stoltenberg reiterated that Ukraine remains on the agenda of the Alliance.
Comments
comments