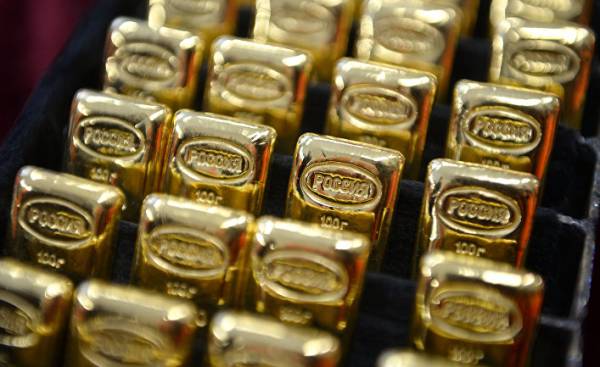 When Vladimir Putin woke up Monday, he lost three quarters of a billion dollars. Has fallen so much the price of Russian gold. The country has tripled its reserves since the financial crisis and has become a world leader in this field. The Russian President should thank the French voters for the daily price drop per ounce to more than ten dollars. After the decision, investors sighed. This meant: the free movement of risky investments. All the crisis investments first fell. Who else wanted to buy gold as a guaranteed investment? There is not a wish — at least, not on Monday after the election.
The abandonment of the gold purchases even annulled the dependence of its price on the dollar. Gold is also considered a currency competing with the dollar currency. A weak dollar usually boosts gold, and Vice versa. On Monday this relationship was completely broken. The U.S. currency fell against the Euro by more than 1%. But it has not strengthened gold, and Vice versa.
This is not the beginning of a new trend. The daily trend was just an instant reaction. Trends Monday will not bring any problems in the near future the European Community. This is useful for the Euro and bad for gold. Long-term Outlook is still another. European themes for the holders of gold was just postponed. Crucial will probably also future course of interest rates and inflation. The clue here is in the hands of the United States.
The gold is mostly in demand during times of low interest rates or even negative real interest rates. In one of such periods we live in. For this reason, analysts famous American research firm Ned Davis Research see good chances for the precious metal. The slight decrease doesn't cause them concern. The gold price this year has risen more than one-tenth. The correction was expected.
Therefore, the situation is favorable for Putin. With the blow of Monday he will be fine. Russian gold reserves in excess of 1.6 thousand tons, this year increased in cost approximately seven billion dollars. Do not have to love populist Putin. But the monetary policy he is implementing far-sighted.
Comments
comments