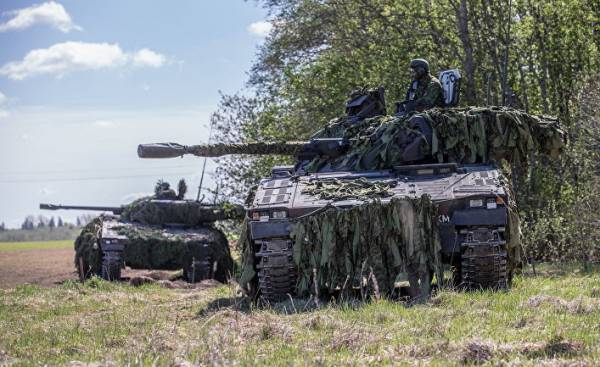 Approval of the President of trump that of the country-members of NATO did not assume a fair share of the burden in ensuring security is not confirmed in this month in military bases in Eastern Europe, where 45 thousand military personnel from United States and 23 other countries of the Alliance conducting military exercises rehearsing reflection of the Russian invasion.
This summer, 18 of the exercise held in the Black sea region, which is particularly concerned about the aggressive behavior of Russia.
American military leaders are not expecting an invasion any time soon, but they understand why countries along the Russian border, show such concern. These exercises should help them to prepare for retaliation if and when Russia is to threaten them, said Lieutenant General Ben Hodges (Ben Hodges), commander of the US army in Europe.
"I don't think it can happen, but it was already happening," said Hodges. And, of course, all living close to that region, from Finland and Sweden to Romania, I believe that it is possible."
Hodges made the announcement at a military air base Bezmer in Bulgaria during the webcast, hosted by the Association of the US army (Association of the U.S. Army). In the largest maneuvers, called Saber Guardian, involved 14 thousand American soldiers. They are also involved troops from Armenia, Bulgaria, Czech Republic, Germany, Croatia, Georgia, Greece, Hungary, Lithuania, Macedonia, Moldova, Montenegro, Netherlands, Poland, Romania, Serbia, Slovakia, Slovenia, Turkey, Ukraine and the United Kingdom.
The naval component of these exercises called Sea Breeze, and its main organizers this year are the United States and Ukraine. Military-air, land, naval and airborne troops from 17 countries are imitating the actions of blocking the access to the area of hostilities in sea, air defense, anti-submarine actions, tactics damage control, search and rescue operations, and landing.
Anti-aircraft missile complexes Patriot have been previously hosted in Lithuania for the exercise called Tobruk Legacy, which was focused on anti-air and anti-ballistic missile of distant radius of action.
According to Hodges, these exercises should not be viewed as provocative, and as "containment".
"We want to be ready, he said. — We provide training to concentrate military force and quickly to form a multinational team so that our political leaders had the options of possible solutions".
The urgency of such actions is particularly acute in host countries — Hungary, Bulgaria and Romania. "All three countries have demonstrated their readiness, said Hodges. They are completely committed to this idea." According to him, the public of these countries welcomed the American soldiers. "For me it's very nice," he said.
Allies of the United States are concerned about the upcoming Russian military exercises, dubbed "West". About 3 thousand Russian soldiers and 800 tanks later this year will arrive in Belarus for preparation for possible confrontation with NATO. "Russian maneuvers cause fear," said Hodges. It will be the first exercises of the "West" after the Russian annexation of Crimea in 2014.
It is the invasion of Crimea have forced NATO to rethink its position in the field of security. "Russian aggression in the 21st century suffered fighting on unfamiliar territory," said officers of the US army Amos Fox (Fox Amos) and Andrew Rossouw (Andrew Rossow) in the recently published White paper of the Institute of land warfare (Institute of Land Warfare).
During the conflicts in Chechnya, Georgia and Ukraine, Russia has perfected the tactic of "hybrid war", say these authors. "We are talking about an integrated national approach", which involves covert operations, manipulation of public opinion and cyberwar.
Maneuvers in Eastern Europe is also important for the American land forces, said the Deputy commander of the US army in Europe major General Timothy McGuire (Timothy McGuire).
"What do we do in crisis?" — he asked during an online broadcast from Bulgaria. The us military for a long time not trained to conduct this kind of war in which the need to fight against such a sophisticated enemy like Russia. "We're trying to get back to that period when we were mobile, he said. — Gone are the days, when there was a visit to the operational forward operating bases with three meals a day, organized a military contractor KBR".
According to him, one of the challenges is logistics. "Have you heard the expression: tactics is for Amateurs, logistics is for professionals".
In Germany there are three combat brigades of the US army, and therefore the transportation of troops and supplies requires careful planning. "We have to obtain diplomatic permission from the relevant countries, said McGuire. — We have friction at the boundary, coordination is not so clear, what it should be. Even regular checkpoints can deter the passage of convoys with supply".
Meanwhile, in the United States there is a debate over what the US army should be based permanently in Europe. The American military presence in the region was reduced after the Obama administration approved in 2012 a strategy of "pivot to Asia", in which the importance of Europe has been reduced. Two armoured brigade in Europe was disbanded. But two brigades — motorized brigade Stryker and airborne infantry — remained.
After the Crimea, the priorities should be re-evaluated. Armored brigade and combat aviation brigade are now rotated every nine months. In the report of the army war College (Army War College) says that the army should consider placing one brigade in Poland.
Most of the military leaders of the United States point to Russia as a main reason for their concerns in the area of national security. Members of the administration trump not had much to say on this issue, and this is not surprising because the White house continues to be involved in scandals related to Russian interference in presidential elections in 2016.
David Trachtenberg (Trachtenberg David) assigned by trump to the position of senior policy Advisor to the Minister of defense, presented an explanation about his vision of Russia before members of the Senate Committee on armed forces. "We have no shortage of challenges. Russia invaded the territory of the neighboring country, territorial integrity of which she promised to respect, she broke their commitments to arms control treaties and threatens NATO allies with nuclear strikes".
Sandra Erwin — commentator on issues of national security and defense of the online publication RealClearDefence, where it first was posted.
Comments
comments