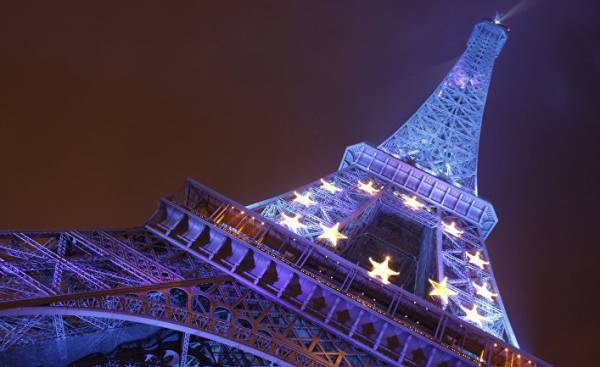 WASHINGTON/PARIS — World markets cautiously await the results of the first round of Sunday's elections in the second largest Eurozone economy, France, where the position of favourites-centrist trying to sway right-wing and far-left candidates, threatening exit from the EU, closing the borders and draconian taxes on business.
The shooting of a police officer on the Champs-Elysees on Friday, the responsibility for which took the "Islamic state", the topic turned to national security in dominating the political agenda: the favorites of the presidential race were quick to offer voters the recipes for their protection.
Lagging in the polls from the leader of centrist Emmanuel macron of the right-wing candidate marine Le Pen has promised, if elected, drastic steps in the fight against "islamistischen terrorism", including tightening the rules of entry. From overseas supporter expressed similar rhetoric, stunned the world on his election victory six months ago, the President of the United States Donald trump.
"One more terrorist attack in Paris. The people of France will no longer tolerate this. This will produce a powerful effect on the presidential election!", he wrote on Twitter.
Ex-economy Minister macron, however, warned that the problem requires more complex solutions than those offered by Le Pen.
In turn, divides the third-fourth place in the pre-election polls ex-Prime Minister Francois Fillon has suggested the West to join forces with Russia in the fight against what he called "Islamist totalitarianism". Calls 63-year-old Fillon to improve relations with Moscow are greeted with hostility by the majority of European capitals, consider the behavior of the Kremlin aggressive.
LE PEN AND MÉLENCHON?
The Euro held on Friday just below six-week high in anticipation of the outcome of the first round of French elections. Elections in France and worldwide geopolitical tensions continued to put pressure on emerging markets. Expectations did not affect the gold price, while the demand is not reduced; the futures on us stock indices remained virtually unchanged, reflecting the caution of the investors of the subject overseas first round.
Borrowing costs in France fell at the last before the first round of bidding to three-month low: traders rely on two Friday's survey, according to which the victory of Le Pen in the second round may 7 is unlikely.
However, investors fear the election of the President of France's far right or ultraleft policy Jean-Luc Mélenchon, and the EU has no "plan B", if the elections will bring a surprise.
In the same vein, spoke German Finance Minister Wolfgang Schaeuble on Friday for a meeting with colleagues in Washington, calling the French election bearing the risk for the world economy.
"It's no secret that we're not in a mad delight, if the results of Sunday's vote in the second round will be Le Pen and Mélenchon," — said Schaeuble.
Comments
comments