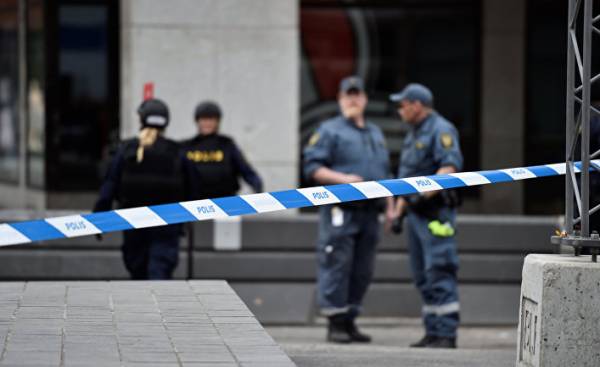 I have long feared that this day should ever come.
That the attacks, whom I studied abroad, will come to my hometown.
In the red zone of the catastrophe on Facebook, suddenly, I was Stockholm.
Stockholm city centre is enclosed in a large red circle on the map. I've seen this in Paris. In Brussels.
The list goes on. I returned home from London after two years of living in this city. Terrorism attacked there Westminster bridge just a few months later.
Shortly before Christmas he came to Berlin. The method is the same. The car, the truck, which suddenly transformed into an instrument of mass murder.
So, frankly, it seemed a matter of time. Sooner or later he would come and in Sweden.
In practice, to defend itself against terrorism of this type is impossible. After all, there is no need of firearms or explosives, only heavy vehicle and foot on the gas pedal.
The attacks, which last year staged in Europe using trucks or cars, most commonly associated with ISIS (a terrorist organization banned in Russia — approx. TRANS.) and Islamic terrorism.
Often these were individuals acting alone, inspired by the propaganda of the terrorist movement and calls for just such action.
Of course, that's what I should be focused suspicion in connection with what has now happened in Stockholm. Of course, we can talk about another type of terrorism, but it is less plausible.
The first thing I did when I heard the news, tried to contact her daughter who works in the southern part of the city. To call failed.
That's how fast our systems are overloaded, when terrorism is suddenly near. It turned out that she, thank God, today is sick and sitting at home.
But some people today won't come home. Their mowing maniac on the street, Drottninggatan, Friday April evening, when most of us look forward to the weekend.
And suddenly the sea of information messages in a mobile phone tells not about Paris, London, Brussels or nice. This time they about Stockholm.
So far we in Sweden managed to avoid major terrorist attacks. We've been lucky. Today, this success came to an end.
Today we woke up with news that Donald trump has sent cruise missiles into Syria, and ends the day with blood on the streets of Stockholm.
A good friend of mine from St. Petersburg wrote me a message in Facebook and asked if I'm okay. On Monday he reported the world that has not suffered from the bombs in the St. Petersburg metro.
Here it is, the dismal spring of 2017. Friday, 7 APR, darkness closed over Stockholm.
Comments
comments