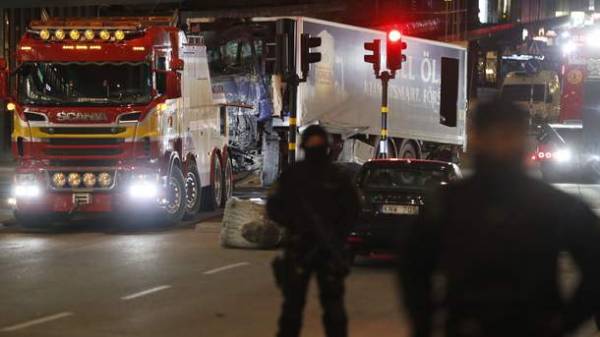 Swedish police detained a second suspect of involvement in the terrorist attack in Stockholm, reports on Thursday Reuters with reference to local media.
According to TV channel SVT, the man was arrested in the Northern suburbs of Stockholm Hjulsta (Hjulsta). He reportedly, allegedly, is associated with others were detained on suspicion of involvement in the attack.
Earlier it was reported that the police detained a man in one of the boutiques in the district of Märsta. According to sources, 39-year-old man was dressed in the same way as the police suspect. He had abrasions, and in connection with the arrest, he allegedly said is guilty of committing a terrorist act in Stockholm. On the clothing of a man found shards of glass.
According to police, the message about the impact of the truck people came on Friday at 14.53 local time. At high speed the car began to shoot down people on the street, Drottninggatan, one of the Central pedestrian streets of Stockholm. The truck stopped after driving about 550 meters and crashing into the trade center building Åhlens. The trucks belonged to the company Spendrups and it was stolen when the driver was with the delivered goods from the client. According to the latest data, the accident killed four people, 15 people received injuries of varying severity.
Comments
comments