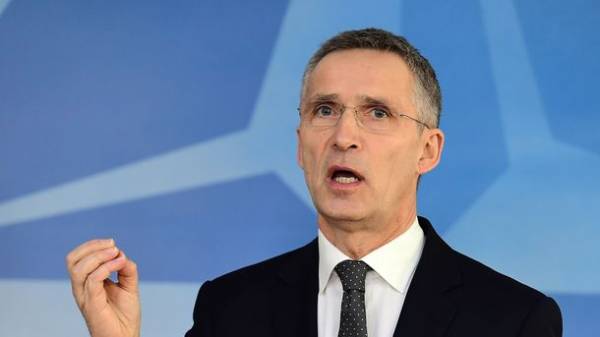 The Syrian regime fully responsible for the development of events that caused the rocket strikes the U.S. air force base "Shirt" in Syria, said on Friday NATO Secretary General Jens Stoltenberg.
"NATO has consistently condemns the consistent use of chemical weapons by Syria as a clear violation of international norms and agreements," – said the Secretary General of the Alliance.
"Any use of chemical weapons is unacceptable, it cannot remain unanswered, and the perpetrators must be brought to justice. NATO said the use of chemical weapons a threat to international peace and security," – said Stoltenberg.
In his statement clarifies that the US caused their shock after a "horrible attack with chemical weapons this week in Khan Sheyhun, which killed dozens of people, including many children."
"NATO supports all international efforts aimed at achieving peace and a political solution in Syria," said Stoltenberg.
In a communique to the headquarters of NATO are reminded that the NATO Secretary General condemned the chemical attack in Syria on 5 April 2017.
Recall that the US Navy ships stationed in the Mediterranean sea, struck by Tomahawk missiles at air base by Syrian government forces on 7 April.
In all there were 59 missiles that were aimed at the runway, and aircraft Parking and refueling facilities.
The operation was carried out by order of the President of Donald trump in response to a chemical attack in Idlib. As explained trump, a military strike was inflicted on the airfield, where they had carried out a chemical attack.
Pentagon spokesman Jeff Davis said that the United States has warned the Russian military personnel in Syria that the airbase shirt in the province of HOMS will be dealt a missile strike.
Recall that hundreds of Syrians died from the chemical weapons (presumably sarin gas) – after the bombing sites of the Syrian armed opposition in Idlib town of Khan shaykhun was covered with a poisonous cloud. According to eyewitnesses, people were dying from suffocation, many lying on the ground motionless, the other was observed vomiting and was frothing at the mouth.
Comments
comments