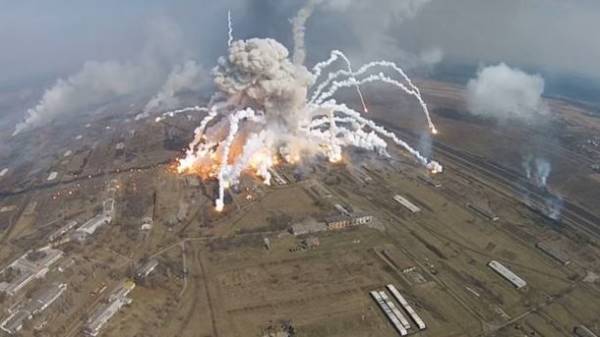 A drone managed to see the scale of accidents at munitions depots in Balakliya, where at some point was captured by a powerful explosion. The corresponding video is published on YouTube.
In the video you can see a horrifying picture, as the shells exploding in the warehouse. Huge fragments scattered throughout the County, including on the road.
See also: state of emergency in Balakliya: the scale of the tragedy in numbers
At some point in the warehouses happened a powerful explosion that huge monster a puff of smoke and fire, and in all directions, sending burning wreckage.
We will remind, on the night of March 23, there were explosions at munitions depots, located not far from the city of Balakleya of Kharkov region, after which lit up the military base. The first information about the incident arrived about 3 o'clock in the morning.
From the area of Balakleya were evacuated more than 20 thousand people.
The Minister of defence Stepan Poltorak declared that according to preliminary findings cause of the fire and explosions of ammunition in warehouses was a diversion. "One theory is that it is a diversion. In particular, the dropping of the explosive device with UAVs," said Poltorak. Later, the SBU qualified state of emergency in Balakleya as a diversion.
Today, rescuers found the woman's body under the rubble of a house in balakliia. In addition, another woman received a shrapnel wound to the head as a result of hit of a shell in the house.
Comments
comments