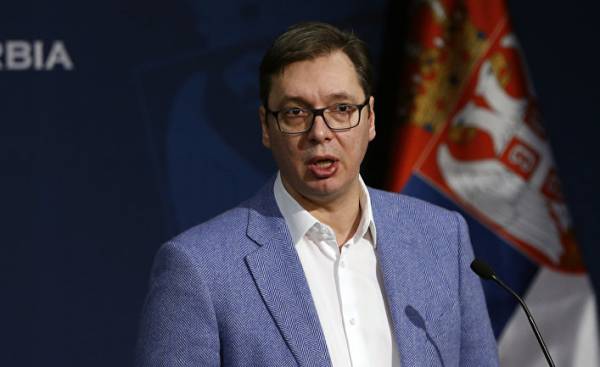 Less than a year after his last victory. However, despite the impressive parliamentary majority for his government, the populist Prime Minister of Serbia Alexander survived with a vengeance aims to take a rather representative post of President. It is the fear of what another candidate from his party could lose the election, forced the head of the Serbian progressive party (SNS) to go on a seemingly controversial move and change position.
He managed to achieve his goal. After counting 91% of the ballots, Vucic received 55,13% of the vote in yesterday's presidential election. He confidently defeated his rivals, the former Ombudsman Sasa Jankovic, the former Minister of foreign Affairs Vuk jeremić, and candidate impressions, the second round will not.
But the former information Minister of the late former autocrat Slobodan Milosevic is not going to deprive themselves of power. On the contrary, the 47-year-old politician wants to run the country not the government benches, and from the presidential Palace. But aspiring to EU membership Serbia is not a presidential democracy. During his second term, Boris Tadic, former President (2008 to 2012) has already unsuccessfully tried to govern Serbia from the government benches, to bypass Parliament, by using the false person.
Finding a suitable Prime Minister
Not only constitutional issues, but also the authoritarian nature and the absolute pursuit of power omnipotent force Vucic divided the opposition to warn against the strengthening of the management system that controls the Parliament. In may, Tomislav Nikolic, will give his powers. Until then, Vucic is the time to choose a successor, which will run the country indirectly. The departure from power and delegation of authority difficult concentrates on the control Uucico. He has surrounded himself with such incompetent colleagues that he has to be a "Minister in almost every Ministry," sneered the leader of the ultra-nationalist SRS by Vojislav šešelj on his former pupil.
When choosing a successor from Vucic will be three candidates, but all have their drawbacks. If you choose an obedient vassal of the party, Minister of internal Affairs, Nebojsa Stevanovic, Vucic will be loyal, but not too competent Deputy. It can provide the opposition's box to attack and cause resistance from the coalition partners. The choice of a non-partisan technocrat without political ambitions, such as the Minister of Finance Dusan Vujovic, can upset his party. To offer can and the head of the socialists, former Prime Minister Ivica Dacic. But not only the resistance of the party, but also the candidacy of the current Minister of foreign Affairs, from the point of view Vucic, will strengthen the position of its predecessor in government. Ambitious rulers did not suffer beside him other gods.
"The idea is just beginning"
In addition to the election results, one thing is known for sure: do not count on calm in Belgrade. Besides changing positions in the government, analysts also expect rearrangements in the camp troubled the opposition. First of all, according to rumors, non-party candidates Jankovic and Jeremic is planning to create a new party. Coming in 2018 elections of the mayor of Belgrade, Vucic can make the third time his countrymen to convene early parliamentary elections. Because in the capital his party SNS is relatively weak. After the presidential elections, the Serbs would not have time to rest, predicts the weekly "NIN". "The show's just beginning."
Comments
comments