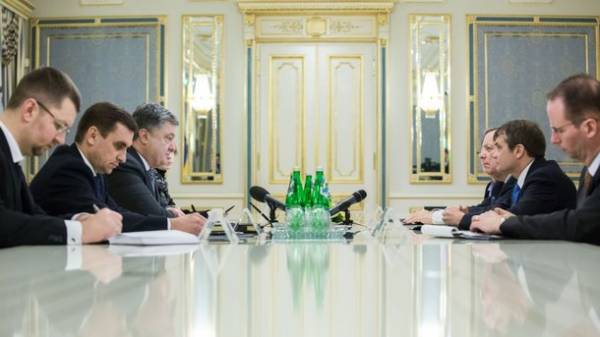 President of Ukraine Petro Poroshenko met with U.S. Senator Richard by Turbiny and U.S. Congressman Michael Quigley, which discussed the situation in the Donbass and further cooperation, reported on the official website of the President.
"The President of Ukraine discussed with representatives of the U.S. Congress, issues of strengthening of strategic partnership between Ukraine and the United States and to counter Russian aggression", – stated in the message on the official website of the President of Ukraine on Tuesday evening.
The leader of Ukraine thanked for the strong and consistent bipartisan support for Ukraine from the side of both chambers of Congress in opposing the continuing Russian aggression.
Poroshenko informed the interlocutors about the escalation of the situation in the Donbas and continuing provocations and violations of ceasefire regime from the Russian-controlled militants. The interlocutors noted the necessity of maintaining and strengthening international sanctions against Russia until the complete fulfillment of the Minsk agreements, as well as the restoration of the sovereignty and territorial integrity of Ukraine, including Crimea.
Separate attention during the meeting was paid to the issues of implementation of reforms in Ukraine and further assistance in this process from the United States.
Comments
comments