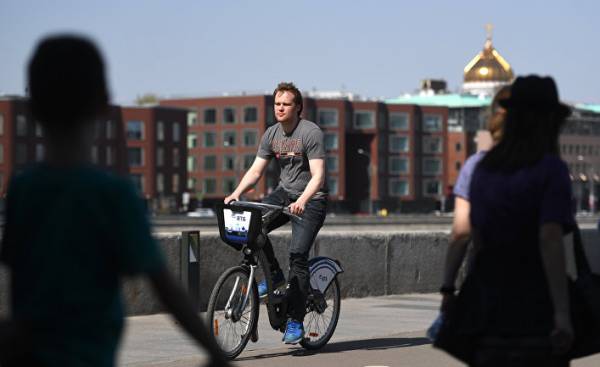 Moscow — a culinary oasis? Or Moscow — a city of cyclists? Such headlines could hardly imagine 20-30 years ago.
Then here in the Russian capital, the restaurants still bore the stamp of the post-Soviet restaurant food, and getting around the city on the bike was fraught with great danger.
But now everything has changed completely, and don't even know how many times my guests from Norway amazed at how the Russian capital has changed its appearance over the decades.
You can start with the place where they live — so to speak, on the outskirts of Central Moscow.
Our absolute favorite is just about 100 meters from the apartment where I live. The restaurant is in the basement on a small street near the metro station "Dobryninskaya". For the Norwegian the name "Tavern" sounds pretty exotic, but here in Moscow it means a lot of chain restaurants, which have in common the fact that the basis of supplied there food — Georgian cuisine, and it's still the most popular among many residents of the former Soviet Empire.
Eggplant and khachapuri
So, my local "Tavern" is located below the level of the sidewalk, but the restaurant is bright and cozy. And the staff that I eventually met pretty good and friendly. Great to have this restaurant in the neighborhood, and I always drive there coming to me at the hotel. The chef is a young man with glasses and a MOP of curly hair — in a typical restaurant owner does not like. But, like his team, he's in the restaurant all the time, and all together, they almost always offer us exactly what we want — the best of the Georgian cuisine.
If you've never tried it, it is yet to come: you just have to hurry to the plane here in Moscow, and Georgia, a small country South of the Caucasus mountains, which also now will become a spectacular tourist route. Georgian cuisine is a bit like food that someone knows on the Middle East, it is characterized by a lot of appetizers, vegetables such as eggplants, with the addition of pomegranate and nuts.
In my "Tavern" already know what I want when I bring my guests, so I almost do not even need to look at the menu. And though many dishes seem unfamiliar, they are incredibly tasty — even in the opinion of picky about eating Norwegian youth. Satsivi — cold chicken in walnut sauce, lobio — beans, hot or cold, richly flavored with spices, particularly with chervil: this is something that certainly should to appear among the dishes, which gradually makes the table.
And, of course, cheese bread, khachapuri, which is also presented in different variants depending on different regions of Georgia.
Previously, many turned up their noses about Georgian wines. Now even some of the most legible of Norwegian friends — connoisseurs eyes were opened, they realized that the dry Georgian wines, both red and white indicate high quality and are suitable for many kinds of food.
The same can be said about Georgian mineral water with gas mineral water, which in recent years is experiencing a sort of Renaissance after the lifting of the trade boycott imposed by Russia against Georgia after the war between the two countries in August 2008.
Russian food — a trend
Georgian cuisine was popular here all the years, but perhaps even more interestingly, in Moscow there are many restaurants specializing in Russian cuisine, and they are proud to show that they use "raw" grown by Russian farmers-enthusiasts, often relying on environmentally friendly products.
"Lakalaka" has become a legend, at least for us who have got money. The restaurant is not in sight, he hides in the yard of one of houses in the center of Moscow, but the rumors about him are active. Very often it is filled to the brim, so best to book a table in advance. Here we celebrated the 50th anniversary of the wedding of my cousin here, I took my neighbors from Oslo. Both times exceptionally well.
They themselves say that they are not a restaurant in its pure form, and not the manufacturer in its purest form. They are co — operative, which is trying to create a complete production line, from producer to consumer. They have their own stores where you can buy organic produce that you know where they are. The restaurant on Petrovka street-the menu changes depending on what is in the course of the year is available from the products.
So here follow a trend familiar in many exclusive restaurants in Norway. But perhaps the most curious is that "Lakalaka" has become a trend setter, which has an impact on many others engaged in the restaurant business here in Moscow.
The food on the Moscow roofs
A few weeks ago I visited the "Russian" — he's probably the most-for those who want to go to a restaurant here in Moscow. At the top of one of the huge skyscrapers that make up the Moscow-city, the brand new district of Moscow, at a height of 354 meters on the 85th floor opened a completely new restaurant.
I was advised one of my friends, saying that he could be good. I was skeptical, because in these restaurants often pay mostly for the view, not for the quality of food.
But we were pleasantly surprised. "Cod-murmanski" was listed on the menu, and fish lovers it was easy for her to seduce. A few years ago it was often so that the menu of Russian restaurants were dominated by fish from abroad, including from Norway.
But after Russia in response to Western sanctions has banned food imports from the EU and Norway, she had to rely on our own strength. Certainly wasn't easy, but now gradually, something began to happen, and the Russians with a growing sense of self-esteem can have your own fish.
And it is quite natural that Russia, with access to several of the world's oceans, can catch enough fish for their citizens, and for starving the visitors of the restaurants.
Can the Russians make wine?
"Russian" was also include in their menu and Russian wines. In Krasnodar region there are several manufacturers who are now very successful in the wine industry, although Russia is not yet able to compete with its neighbor — Georgia — in the production of wine.
In addition, many restaurants also have quality wines from the Russian-occupied Crimean Peninsula. Someone will say that you order them — not politically correct. Because it can be perceived as support for the economy in the region, which actually belongs to Ukraine.
"Russian" is just one example of the restaurant that opened on top of high-rise Moscow house. I must admit that I liked to eat a little higher above ground level than usual, particularly in a rather peculiar building of the Russian Academy of Sciences to the Park of Gorky. However, to find the door without a sign you need to be almost a map and compass.
The sommelier served Putin
The current service in Moscow restaurants is a separate Chapter. While over the 1990-ies came to the restaurant to eat was met with suspicious glances, but now — on the contrary — it happens even too.
That was when I decided to order a bottle of white wine in the Panorama restaurant at the top of the venerable hotel "Golden ring" at the Garden ring, never fading ring road passing around the center of Moscow.
All ended up being a sommelier, the particular waiter in question, and these are now almost all self-respecting restaurants, sat down at the table to talk about his life and a little about our.
And of the fact that he was chosen and served wine to the Russian President Vladimir Putin.
These are the Russian: they are often willing to open up to you if you too are with them openly and willing to lend a hand.
Moscow for the more sensitive road users
In recent weeks I, as a cyclist is also experienced in the Moscow real breakthrough. My good colleague Pär Anders Johansen (Per Anders Johansen) from Aftenposten has long been said that the Bicycle is exactly what it takes to get to the right place in the terrible Moscow traffic. He went so far that we even got our own bike.
I myself did not, but purchased a subscription for city bicycles, which appeared here in Moscow, a couple of years ago. Can drive as long as you want but not more than 45 minutes on a single bike.
If I exceed this time limit will have to pay. But in the center of Moscow now is full of Bicycle Parking, so if you don't want to pay extra, we can only go from one stop to another and just change bikes.
Before the country was completely sterile in terms of Bicycle paths or lanes designed for cyclists, but here and now, much has changed. Last Sunday I decided to check out whether it is possible now to travel by bike around the Boulevard ring, another ring (or, more precisely, semicircles), which passes around the inner center of Moscow.
And it went surprisingly well although many motorists are still not really accustomed to the fact that there are such people — cyclists. Had invested large sums in the construction of Bicycle lanes along the Boulevard ring, and for me to drive in Moscow on a Bicycle meant to look at the city in a completely new way. Not to say that driving in Moscow on a Bicycle is not dangerous, but it's amazing how much the culture has changed transport since I lived here in the 1990-ies.
Bikes can make Moscow a more peaceful and harmonious. The authorities have promised that will continue to rely on bike paths and the restriction of movement of motor transport in the city centre.
As for politics, that in our difficult times there is no doubt that Russia should assume their share of responsibility for what kind of Europe which was the dream of many of us, with discharge and open borders, now seems quite distant. But it is necessary to come to Moscow or to St. Petersburg, and try to "try" what Russia is. I think the world will not become worse.
Comments
comments