The National Bank believes that this action is an attempt to intimidate the user controller
At the entrance to the village, where the former head of the National Bank Jacob Smoliy, unidentified persons left a coffin and funeral wreaths, and banners mentioning Smoliy. Photo published on Twitter, the former head of the NBU.
"Ukrainian night. No comment" – he wrote.
The incident has been already commented on in the national Bank.
"It is likely that this action, in fact, for the new President (NBU) and is designed. However, the goal may be entirely different – bullying, by contrast, were docile and did not make steps that do not like the customers of this "action", – reads the statement of the press service.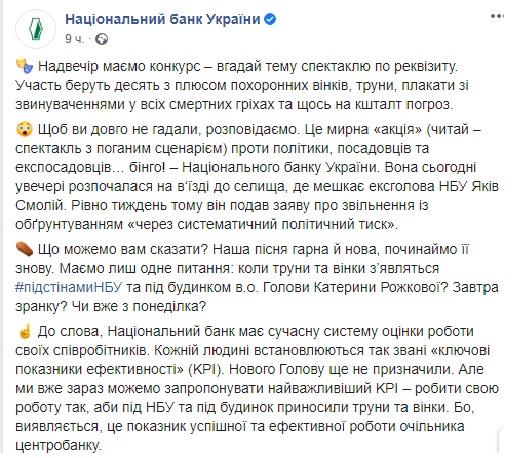 We will remind, the head of the national Bank of Ukraine Yakov Smoliy of July 1, wrote a letter of resignation and handed it to the President of Ukraine Volodymyr Zelensky. Smoliy explained his decision systematic political pressure exercised on the Central Bank for a long time.
"Time to call a spade a spade": the staff, the NBU made the statement
Advisor to the President of Ukraine Oleg Ustenko said that the main problem of the NBU, which could lead to the desire to quit Smoliy, was not political pressure, and construction of communications.
On July 3 the Verkhovna Rada voted for the resignation Smoliy.
Acting head of the NBU to appoint a new leader will be the first Deputy Chairman of the national Bank Ekaterina Rozhkova.
That will lead to this decision, read in a material: "the Resignation of Yakov Smoliy: what will be the new course".
Comments
comments