How to bake savoury biscuits with feta and herbs de Provence
Today, 15:13
The recipe is delicious cookies with cheese in the oven
Irina Peacock
the editor of the Food
Biscuits with feta and herbs de Provence – this is a great snack to beer. In addition, you can cut it in half and make a sandwich with a fried egg, bacon and cheese for Breakfast.
Be sure to put the cakes on a wire rack for cooling immediately after you remove it from the oven, so it is not damp.
Bake as many cookies as you can eat for a day. The rest you can freeze raw and cook later. Lubricate the workpiece with egg just before baking and bake for 2-3 minutes longer than stated in the recipe.
Savoury biscuits with feta and herbs de Provence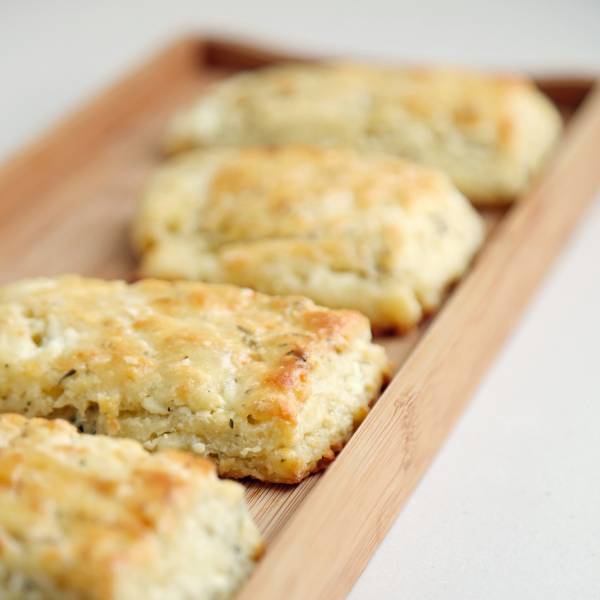 Photo: popsugar.com
Cooking time:
Calories:
Ingredients:
2 cups (285 g) flour
1 tablespoon baking powder
1 1/2 teaspoon of salt
1 tablespoon Provencal herbs
170 g cold butter, diced
1/2 Cup cold buttermilk
Very cold 1 large egg
200 g feta cheese
1 egg, beaten with 1 tablespoon water
Method of preparation:
Preheat the oven to 222 ° C and cover a baking sheet with parchment paper.
Mix the flour, baking powder, salt and herbes de Provence in a large bowl. Add the diced butter and grind with hands until the mixture become like bread crumbs.
Mix the buttermilk and egg in a small bowl and pour in the mixture of butter and flour. Gently knead the dough, then add the feta.
Roll out the dough on a floured surface to a thickness of 1 cm Cut into 8 equal rectangles for large cookies or 16 triangles for the middle.
Brush cookies with egg beaten with water. Bake for 17-20 minutes or until until lightly browned.
Cool slightly on wire rack before serving.
Note
If you don't have buttermilk, make it yourself "sour" the milk quite easily, and it will replace buttermilk in any recipe. Pour 1 tablespoon of lemon juice or vinegar in a glass measuring jug and then add milk to get 225 ml of liquid. Stir and let stand 5 minutes until thick.
Earlier, we wrote how to cook the most delicious cookies with sesame seeds. Today.Lifestyle also shared the recipe American cookies with candy.
Comments
comments