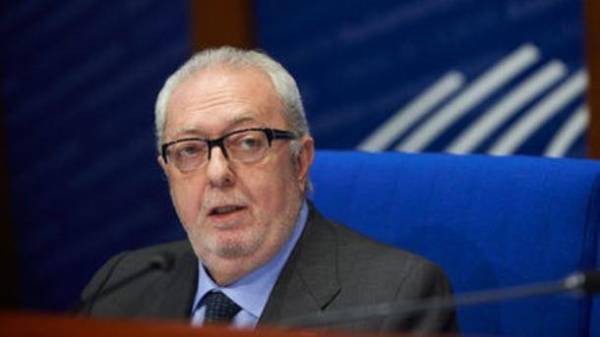 Members of the European people's party (EPP) expressed distrust of his colleague and the President of PACE Pedro Agramunt and wished that he resigned, after which he fled from the meeting. This was told MP of Ukraine, member of the delegation to PACE Borislav Bereza, who was present at the meeting, according to 112.ua.
According to him, for the resignation of Agramunt expressed many of his party members.
"I right now are at a meeting of the EPP group, the European people's party, which is the largest, and Mr Agramunt is a member of the party. The President of the PACE I ran away from the meeting of the party after the mass statement that representatives of the party, including the British, Austrian, Estonian, Lithuanian MPs, demanded that he resigned," – said Birch.
The MP noted that Agramunt tried to get out of the situation, stating that it was used.
"Several times he tried to get out in an original way: he suddenly forgot the English language and did not understand the question. The one he suggested, is to take responsibility for his actions. He dismisses it and says that it was used, manipulated, he didn't know. He explained quite clearly that the presidency in the PACE – it's not a hat that he can take off and say that he is now the Deputy. The presidency in PACE is not only the authority, but also responsibility. So at the moment the group of the EPP is not ready to support the President and requires an ultimatum that he removed from office," said Birch.
He also stressed that the PACE history for the first time from the President need to resign.
"It shows that any politician who tries to flirt with Russia, it is toxic in Europe and becomes nerukopodavaemaâ politician… in fact more than half of our group requires. Group the Alda requires a group of socialists require, also have the votes from conservatives… insulted the Deputies, the deputies are angry," – said the politician.
We will remind, today, Pedro Agramunt unveiled the first official explanation about his visit to Syria along with Russian state Duma deputies. He stressed that it was his private visit, not connected with the work at the head of the PACE, but acknowledged that would have to inform about the intentions of other political groups.
Earlier it was reported that in March this year, Damascus was visited by the big delegation of representatives of the PACE, headed by the President of the organization, Pedro Agramunt, and the company was the Russian deputies of the state Duma of the Russian Federation.
Comments
comments