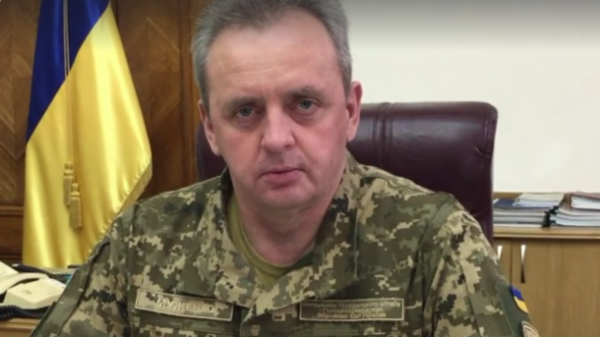 Russia has put its troops in Belarus after the exercises "West-2017", despite promises not to do it, said the chief of the General staff of the armed forces of Ukraine Viktor Muzhenko, reports ZN.ua with reference to Reuters.
"We have information that they brought only a few units of the claimed 12 500 soldiers, of which 3000 were supposedly Russians, but there really was so much more", – quotes the Ukrainian General .
Muzhenko said that the Russians took the aircraft from Belarus in order to create a picture of withdrawal.
"Russia has demonstrated, and it was primarily a demonstration, return air units – they took to the air and flew to the airfields of Russia. But we understand that aviation 300-400 km is the distance that can be overcome in a very short time," he said.
According to Murzenko, the tension has not diminished, but rather increases.
The head of the General staff also noted that Ukraine hopes to receive lethal defensive weapons from the United States.
"We expect a decision in because all the negotiations have ended and relevant questions were agreed – on the list, and the types of weapons and we expect the political decisions of our partner countries," – said Muzhenko.
SEE ALSO
Exercises "West-2017" was only "conditionally open" – Ministry of defense
Recall that from 14 to 20 September at seven firing ranges in Belarus and in three sites of the Russian Federation held a joint Russian-Belarusian military exercises "Zapad-2017".
NATO analysts say that Russia under the guise of exercises "West-2017" has deployed tanks and armored vehicles to the Western borders. Since the beginning of August recorded the movement of Russian military equipment along the entire European border of Russia – from the Baltic to the Black sea.
The monitoring exercise was carried out by two observers from Latvia, Lithuania, Norway, Poland, Sweden, Ukraine and Estonia.
Earlier it was reported that the last train with soldiers and equipment of the armed forces of Russia, who took part in the exercises "West‑2017", left Belarus.
The train went from one of the railway stations in Borisov.
"Traditionally the last in the places of permanent deployment units of the loss of logistics", – stated in the message on the official website of the exercises.
Comments
comments