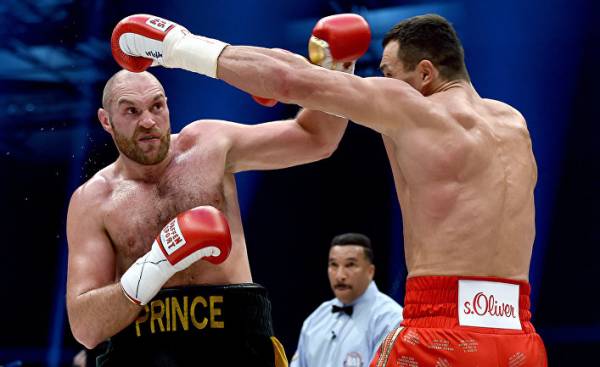 With a stone face and stretched head hooded Wladimir Klitschko sat in the ring in one of the halls in the bowels of Wembley stadium and watched the hall came a favorite of the local audience. His most famous appearance announced the judge-the informant Michael buffer (Michael Buffer), and about thousands of fans passionately welcomed him. Beneath their screams, Anthony Joshua and stepped into the ring with Klitschko hold an open training session.
27-year-old world champion in heavy weight under version IBF, made a few warm-up jumps, then quickly put on gloves and struck a few powerful direct hits on the "paws" that held him coach Rob McCracken. Klitschko and his whole appearance showed that he is not the slightest effect. 41-year-old Ukrainian, who Saturday night will fight Joshua had made it clear that in this battle, the winner will be only one: himself.
Klitschko entered the ring for about an hour before the opponent. As the audience began from the heart to whistle to the address of the giant growth of 1.98 m, he suddenly took the microphone and said defiantly, "You are certainly not happy to see me, but I'm still glad to be here. I'm going to enjoy". And he really enjoyed it.
In fact, such open workout before the big fights are for boxers not the most pleasant "obyazalovke", but Klitschko pulled her to the max and really enjoyed it. The show began to warm up, when the Ukrainians gave all present to understand that nothing can bring him out of balance.
Meanwhile, his older brother Vitaly, standing next to the ring, vengeance was interviewed by predicting the outcome of the confrontation: "This fight will last a maximum of until the tenth round", — he told to our edition. "I rarely saw Vladimir more prepared than now. He would send Joshua a knockout". Vladimir said: "I need what now have Joshua title. I'm obsessed with it." And then he added philosophically: "Obsession is an extreme form of love." Self-love, of course.
Klitschko feels good in a new role
Long ago, the team Klitschko have not demonstrated such a propensity to attack. About the importance of the upcoming battle in front of 90 thousand spectators in the stands of Wembley for his whole team even said dress code. "Defeat is not an option," was written in large letters on the training suits of the Klitschko and his comrades. "Vladimir will not be a second chance," said 45-year-old Vitali. "He knows that this depends largely on its future."
In recent days, Klitschko has repeatedly stressed that it feels quite comfortable in the role of contender for the title. According to him, he feels only a rush of energy and motivation. And the boxer admitted that he was angry at himself after losing in November 2015 Tyson fury (Tyson Fury).
His promoter Tom Loeffler (Tom Loeffler) takes a long 17-month break after losing the championship belt with mixed feelings: "At a certain age a break is good, but Vladimir was not against a rematch with fury. And now he will regain the title in a battle with Joshua."
If the fight will last all 12 rounds, then Joshua may receive a kind of "home field advantage". "You never know what ratings will expose the touch judges," said Leffler. "But I hope that they will remain unbiased." Himself Klitschko said at a press conference at the major TV complex in West London: "a clear assessment is always better. Although Joshua says he is "puncher", "puncher" — I".
German ex-world champion Sven Ottke (Sven Ottke), trainee Nina: (Nina Meinke) from Berlin, which will "warm up" fight before the main fight involving Klitschko does not see clear favorite. "Heavy weight can happen, anything" — he has told in interview to our edition. According to him, Ottke hoped that approval Klitschko about a "cleanse" after the defeat of the fury was not an empty sound. "Vladimir definitely need to improve their achievement. If he shows the same box, as then against fury, he will "kick ears". However, "so far he's after the bad results always came back and were only stronger."
Comments
comments