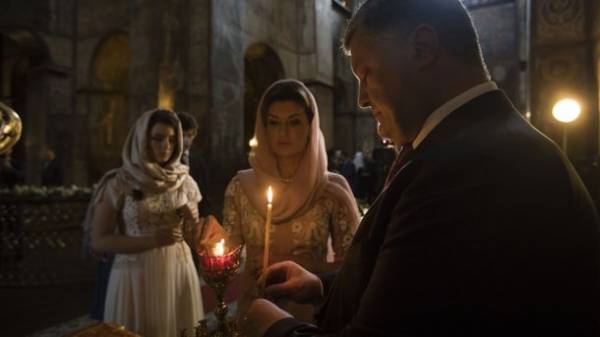 Independence Day of Ukraine President Petro Poroshenko with his wife Maryna Poroshenko and children prayed for Ukraine. Festive event "Prayer for Ukraine" was held in St. Sophia Cathedral, the press service of the head of state.
Also the event was attended by spiritual leaders of the country, the Chairman of the Verkhovna Rada of Ukraine Andriy paruby, the Prime Minister of Ukraine Volodymyr Groysman, the Secretary of national security and defense Alexander Turchinov, Chairman of the Kyiv city state administration Volodymyr Klitschko.
"After the speeches, the choir performed the anthem "God is one, the Great, save us Ukraine". The presidential family established the candle," – said the press service.
In addition, Petro and Maryna Poroshenko took part in the ceremony of laying flowers to the monuments to Taras Shevchenko and Mykhailo Hrushevsky.
We will remind, the President Petro Poroshenko on the occasion of flag Day of Ukraine expressed confidence that Ukraine will restore its sovereignty and national symbols will fly across the territory of Donbass and Crimea.
Comments
comments