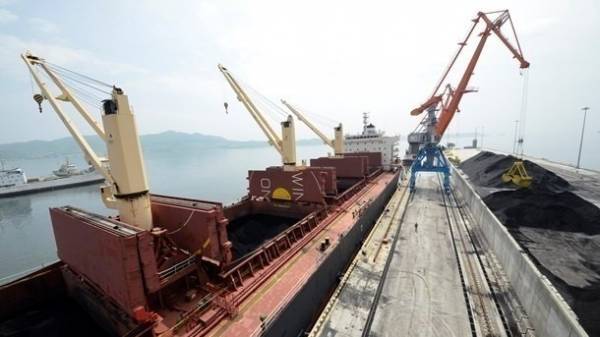 The next batch of coal, anthracite from South Africa (South Africa) sent to Ukraine. It is reported, DTEK on the official page in Facebook.
"Another batch of anthracite from South Africa goes for energy. This is the sixth ship, which carries scarce fuel for our Krivorozhskaya and Pridneprovskaya TPP. Arriving in mid-October," – said in the message.
SEE ALSO
Of DTEK's TPPs in August increased electricity production by 16.4%
The company said that with this coal in the warehouses of the station will be able to cope with the important task of providing stable power supply to households and businesses in the heating season.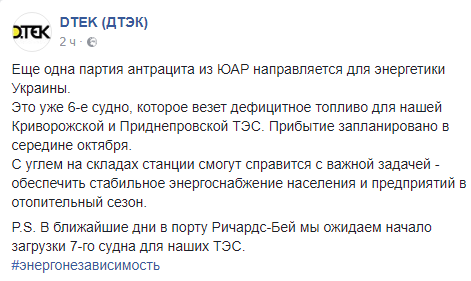 In addition, in the coming days at the port of Richards-Bayview, South Africa aidesa start download seventh the vessel with anthracite coal to Ukrainian thermal power plants.
Recall that in the framework of the contract, DTEK has imported to Ukraine 225 thousand tons of anthracite from South Africa. The first vessel with 75 thousand tonnes of anthracite coal for thermal power plants, DTEK arrived in Ukraine on 25 may. Only in South Africa, the company has contracted 675 thousand tons of coal.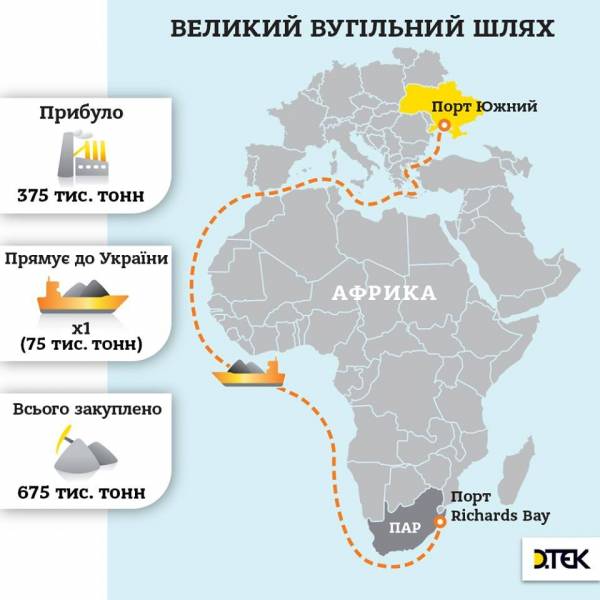 From September 2017 DTEK also started the implementation of the program, consisting of three key steps to reduce import of coal. Step # 1 – transfer of blocks of anthracite on coal gas. Step 2 – provision of Ukrainian coal thermal power plants production. And step # 3 – upgrades capacity thermal power plant for efficient and uninterrupted operation.
Comments
comments