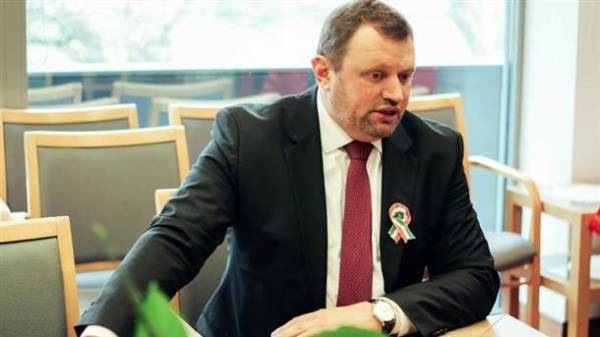 The Ambassador of Hungary in Ukraine Erno Keskeny hopes to find with Ukraine a joint decision according to article new Ukrainian law on education, which concerns the languages of national minorities. He said this at a press conference dedicated to the cultural events of the autumn of 2017, which will be held with the support of the Embassy.
"Perhaps today you see in the press that we are now experiencing is not easy period in the Hungarian-Ukrainian relations", – said Keskin.
"I very much hope that we will overcome this phase and also we will be able to find a common solution to those problematic issues which are the subject of disputes", – said the Ambassador.
SEE ALSO
The education act: Klimkin offers dissatisfied countries to sit down at the negotiating table
As reported, on September 25 the President of Ukraine Petro Poroshenko has signed the law "On education", language which (in particular, article 7 concerning the language education in Ukraine) has caused concern in several countries – Poland, Romania, Hungary, Greece, Bulgaria.
Poroshenko instructed the Ministry of foreign Affairs and the Ministry of education and science to carry out about this law the necessary consultations with European partners, including the Council of Europe.
In turn, the Ministry of education and science assured that the language provisions of the new law (particularly article 7) does not violate the European Charter for regional or minority languages and the framework Convention for the protection of national minorities.
On 28 September the Minister of foreign Affairs of Ukraine Pavlo Klimkin sent a 7-th article of the law on education for consideration, "the Venice Commission".
The new law is being introduced in Ukraine 12-year secondary education, the language of the educational process in educational institutions is the state language – Ukrainian.
According to the law, persons belonging to national minorities of Ukraine is guaranteed the right to education in communal institutions for education along with the state language in the language of respective national minority. This right is implemented via classes (groups) with education in the language of the national minority alongside the state language.
Persons belonging to indigenous peoples, national minorities of Ukraine, which began receiving General secondary education before 1 September 2018 up to 1 September 2020 continue to receive such education in accordance with the rules in force before the entry into force of this law, with a gradual increase in the number of educational subjects taught in the Ukrainian language.
Comments
comments