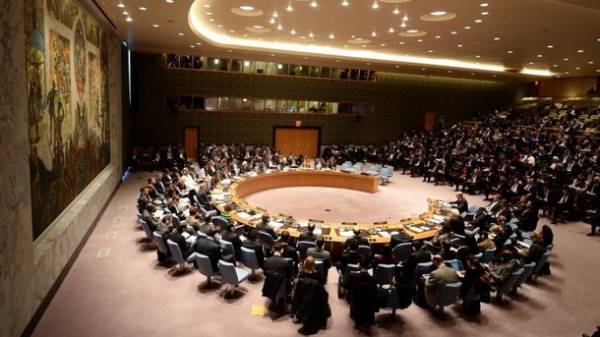 The Minister of foreign Affairs of Ukraine Pavlo Klimkin said that the resolution on the placement of the UN peacekeeping mission in the Donbass will be agreed with the countries "the Big seven", the EU and China, after which it will be brought before the UN security Council.
"The first resolution to be adopted by the UN security Council – it will be technical, it will give a push, it will not contain the mandates of the mission, and after the resolution or in parallel with it, as it will be diplomatic and political, the technical mission that the Secretary-General will send, in order to understand what money and power in the time frame and organization of the process really necessary", – said the Minister.
SEE ALSO
Private US intelligence revealed plans of Russia in Donbass
According to Klimkin, Ukraine submitted proposals to the Council in early 2015.
"I remember very well as I had a long conversation with all the Ministers of foreign Affairs and members of the security Council, when Ukraine was not yet a member of the security Council," – said the Minister.
SEE ALSO
The Ukrainian draft resolution on the peacekeepers in the Donbass will soon bring in UN – Klimkin
"What is the trick, if we have submitted any draft resolution, even the best, Russia would immediately play or herself, or by his friends, ostensibly to bring (resolution – Ed.) type – we need compromise, we need a compromise now, and why it's not clean, maybe the border at the second stage. Therefore this position is not only the position of the Ukrainian side, and the position of all our friends and partners … first, the common ground with the "Big seven", with the EU, with all countries, China is also important, I spent nearly an hour with Chinese Minister to explain all the nuances; and then we will go with our resolution, but it will be a joint resolution and not just our resolution," – said Klimkin.
Recall that the position of Russia and Ukraine at odds in the issue of deployment of peacekeepers. So Kiev wants their imposition on all uncontrolled territory of Donbass, include the Russian-Ukrainian border. Moscow, in turn, is configured only to enter them on the line of contact and for the protection of OSCE observers.
Thus the people's Deputy Anton Gerashchenko said earlier that the strengthening of economic sanctions against Russia more effectively to address the conflict in the Donbasthan the introduction of the UN peacekeeping mission in the Donbass.
Comments
comments