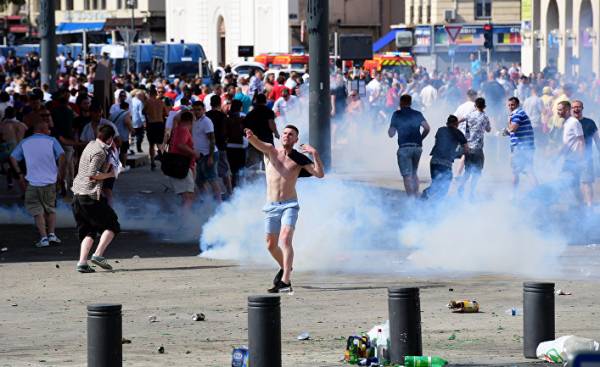 The infamous Russian football hooligans have warned English fans: "If you think that France was bad, wait until next year and the world Cup."
During the sensational investigation Mirror came to the leaders of two notorious gangs of Russian "ultras".
One of them during the last summer of the European Championship participated in the terrible "Battle of Marseille", which suffered 100 English fans, and two of them were in a coma.
The football Association and the police now fear that the world Cup final, which will be held next summer in Russia, will result in serious bloodshed.
Alexey Mavrin shows off the power of suffering for Uralmash "Steel monsters", on t-shirts which bill "Ultras" and "Hooligans".
He noticed that his "company" is secretly involved and fight along with everyone — even the police.
"Travel to Marseille remains the pinnacle of my career as a bully. We were stronger than the British and won the battle. The British had only to flee".
His rival, the leader of the "Landskrona" — groupings of fans "Zenith" — said: "If you think that was bad, you still don't know what will happen in Russia, in our territory".
"In Marseille almost killed the Englishman. Next summer may be even worse. Circumstances may arise, so that someone will kill," he added.
51-year-old British fan Andrew Beech (Andrew Bache) would have died if brave French police saved him by artificial respiration.
The four British Russian thugs inflicted life-threatening injuries.
Mavrin, an architect by training, living in Yekaterinburg, the fourth-largest city, last summer, selected the English flag of the fans of the Three Lions and took him as a trophy.
He brought this flag home and hung out at a local bar.
"But then came the Federal security service, the modern KGB — and it was taken away. I guess someone wanted a souvenir," he complained.
"In Marseille, the Russian firms have presented a United front. The football hooliganism we got it from you, England, but it has evolved".
"We are a strong, healthy one Russian is worth 12 or 13 of the British".
"In the' 80s and ' 90s, the Russians were like the British and was also drinking before the fights. But this is no more. If we have someone gets drunk, we're not taking him with me".
"If the British come to us, you fight well, but I don't want to hurt my city. They drink too much and leave behind a mess."
29-year-old Mavrik also made a chilling warning to the blacks and the gays planning to attend the championship. "Here it is not accepted. Many Russians are not accustomed to such things."
"English black fans and fans-gay, without any doubt, you should be very careful when they next year gets here."
"The English fans and families can come quietly, they will be met with respect and friendship. But the bullies would punch if they were to look for problems."
The name "Steel monsters" is connected with the Ekaterinburg metallurgical industry. However, football violence attracts a variety of people.
"Many of our good work. Among us there is, for example, a police officer and a lawyer," says Mavrin.
Russian "ultras" are often used in rough operations military tactics. In Marseille they simultaneously marched to the square dressed in black.
Mouth many had a mouth guard to protect the teeth, and gloves to avoid leaving fingerprints. They are all in very good shape and training everyday.
Meeting with the leader of the fans of "Zenith" was also organized as a military operation. We agreed by email to meet in St. Petersburg, but before he sent his observer, who was checking to see did we are the police.
After 15 minutes had our source and we were taken to a closed room behind the pub.
32-year-old leader of the "Landskrona", who asked not to be named, said with a smile: "If the British want their after Marseille again beat them enough to ask about it."
I ask him how he refers to black players for his club. "Zenit black people don't play,' he says. — We have only tanned".
I insist on an answer, he coldly looking at me: "Why don't you just ask, ain't I?" I ask, but he is limited to only grimace. But the battles with the English "firms" he says with pleasure.
"A few years ago the English national team played with a Russian in Moscow. On the way some English fans came to St. Petersburg.
"It was a great battle with the "firms" Nottingham Forest and West Ham. They were beaten, and then we arrived in Moscow and again they punched. We won at home and on the road!"
"20 years ago, the battle of Russia against England would be honest — 50/50. Now it is not."
England has a great chance to go in the Russian part of the championship. She is a leader in their group and on Saturday needs to play with Lithuania.
Assistant chief constable mark Roberts (Mark Roberts), responsible for the policing of football events, says that he advises fans to go to Russia only in case if the authorities say it is safe.
"When I will be more aware of the security measures, I will give this information to the fans, so they can make an informed decision," he added.
Comments
comments