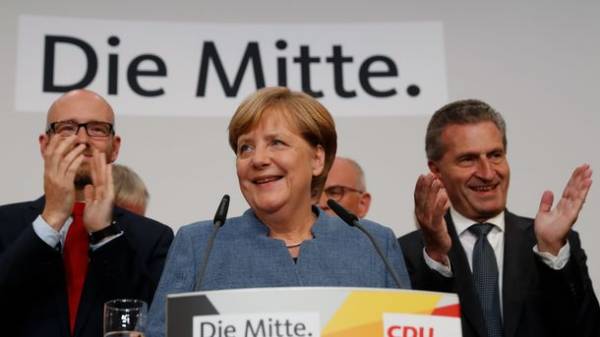 The President of Ukraine Petro Poroshenko and Prime Minister Volodymyr Groysman congratulated the Prime Minister of Germany Angela Merkel on the victory of her political party in the parliamentary elections to the Bundestag.
"Victory brings the restoration of the territorial integrity of Ukraine and its future in the United Europe!", – quoted from the greetings of the President of Ukraine, his press Secretary Svyatoslav Tsegolko on his Twitter account on Sunday evening.
President privte Angela Merkel: Peremoga scho nobleza vbnewline teritoralna closest Ukraine that a future in Ob Dani Clubbing! pic.twitter.com/2h6AlmsHZG
— Svyatoslav Tsegolko (@STsegolko) 24 Sep 2017
Merkel also congratulated the Prime Minister of Ukraine Groisman.
"I salute Angela Merkel and her political power with the victory at the parliamentary elections in Germany! Mutually beneficial cooperation between our States will develop further!", he wrote on his Facebook page.
We will remind, in Germany, announced preliminary results of the exit polls conducted on election to the Bundestag.
According to them, the CDU/CSU led by Angela Merkel, gained 32.5%. Obviously, Merkel will become Chancellor in the new government of Germany.
In second place – the social Democrats, led by Martin Schulz, they got 20%.
Third place was taken by right-wing radicals of the party Alternative for Germany, they were 13.5%. As you know, the ADN does not hide Pro-Russian sentiment and declares the intention to cancel the sanctions imposed against Russia.
The survey was commissioned by public television ZDF gives other data, but the distribution of seats the same. According to them, the party Merkel 33.5% and the social Democrats 21% of ADN – 13%.
Comments
comments