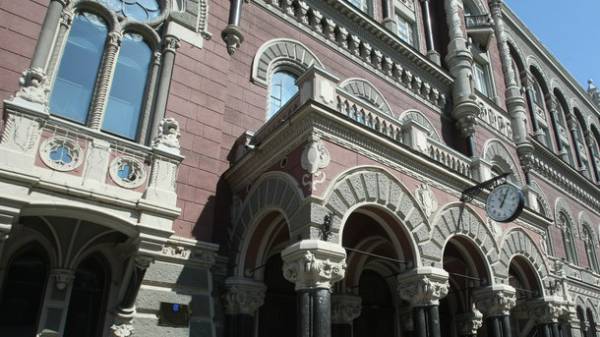 The national Bank of Ukraine (NBU) has fulfilled the requirement of the Council of national security and defense Council (NSDC) and developed proposals for the introduction of sanctions against operating banks in Ukraine with Russian capital.
"With the aim of preserving financial stability in the country and the full implementation of the Ukrainian banks with Russian state capital obligations to clients, the national Bank proposes to apply sanctions in the form of prevent capital flight outside Ukraine", – said the first Deputy head of the NBU Yakov Smoliy.
The NBU proposes to impose sanctions against Sberbank and Prominvestbank, VTB Bank, BM Bank, Vs Bank, where 36 billion of obligations to legal and natural persons. As pointed out by Deputy head of the NBU Ekaterina Rozhkova, these funds should stay in Ukraine.
"This means that it will be forbidden the exercise of any financial transactions in favor of the parent banks, interbank loans, deposits, subordinated debt, purchase of securities, placement of funds to accounts, and similar operations. Also, this prohibition of payment of dividends, interest, return of interbank loans funds to accounts and subordinated debt. We also propose to prohibit the distribution of profits and allocation of capital," – said resin.
Sanctions will be enforced by the decision of the Council.
The NBU said that the sanctions apply only to banks with Russian state capital. Private banks with Russian capital, for example, Citibank and Alfa-Bank will not touch it.
As reported today, 15 March, the Council instructed the NBU and the security Service of Ukraine (SBU) during the day to make suggestions on sanctions against the banking institutionsin whose capital there is a share of state banks in the Russian Federation. Earlier , the NBU has said that it is ready to impose sanctions "dochek" Russian banks in Ukraine after the corresponding decision of the NSDC.
We will remind, today the Sberbank of Russia in Ukraine has imposed restrictions on cash withdrawals limit is 30 thousand hryvnia per customer per day. Also the limit applies to the withdrawals of deposits. Sberbank is called temporary restrictions and explain the violation of the schedules of collection of branches and ATMs branch network. Earlier in Kiev activists walled office of Sberbank of Russia. Discontent led to the decision of the savings Bank working with customers "citizenship" of the so-called "DNR" and "LNR".
As it became known on 7 March, Sberbank has agreed to serve customers with unrecognized by the international community and Ukraine "passports" so-called "DNR" and "LNR". Then the Minister of internal Affairs Arsen Avakov criticized the actions of the Russian Sberbank. He said that after that, the Bank can't work in Ukraine and urged the NBU to impose sanctions.
As is known, the savings Bank of Ukraine operates as a subsidiary of the Russian financial institutions, but operates under the legislation of Ukraine.
Comments
comments