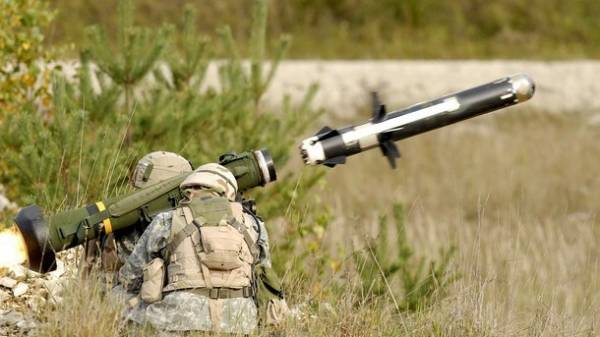 President of Ukraine Petro Poroshenko said that he had not discussed with the us leader Donald trump to supply lethal weapons to Ukraine and is proud of the fact that Ukraine and without it was able to resist Russia. He declared it in interview to the American TV channel Fox Business, reports UNIAN.
According to him, Ukrainians are proud of the fact that no weapons of the West could confront Russia.
"We had a very productive discussion (with the President of the United States Donald trump), Ukraine produces very effective anti-tank missiles itself, we got nothing from all over the world, no lethal weapons, but we stopped the Russian aggression. We built a 250-strong army, which is one of the most efficient in Europe. We – Ukrainians – are proud of it … But we got a solid assurance from our American partners (with respect to military-technical assistance. – Ed.)", – said Poroshenko.
SEE ALSO
Trump on the meeting with Poroshenko: "It is wonderful"
He noted that during a conversation with trump has not raised the issue of the supply of American anti-tank Javelin.
"We make ourselves (anti-tank system. – Ed.) but we were talking about electronic warfare to make a effective and APU to keep the lives of my troops and to increase the responsibility for Putin if he decides to attack the position of my army. Him we do not allow", – said the head of state.
We will remind, yesterday the President of Ukraine met with his American counterpart Donald trump. Details of the meeting can be read here.
As stated recently by the President of Ukraine Petro Poroshenko, the US Senate approved the draft "Law on the U.S. budget for national defence in 2018". Ukraine will get 500 million in military aid from the United States.
"The bill provides for $ 500 million. military assistance to Ukraine-including lethal defensive weapons. The bill limits the allocation of half of the funds, while defense Minister (James Mattis. – Ed.) confirms that Ukraine has taken important steps for implementation of institutional reforms in the field of defense is critical to support the defense capability through military aid (US.. – Ed.)", – stated in the explanatory note to the adopted bill of the defense Committee of the Senate.
Comments
comments