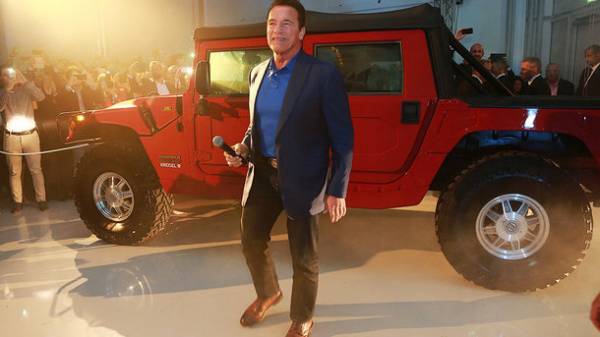 Austrian firm Kreisel built for Arnold Schwarzenegger the world's first electric Hummer H1. Premiere of the car took place during the opening ceremony of a new centre of research and development of the company, in which he participated with the Austrian Chancellor Christian Core – "Action."
The SUV was built in just two months. It was equipped with electric motors on the front and rear axles, with total capacity up to 490 horsepower. The engines are powered by battery pack with a capacity of 100 kilowatt-hours.
The reserve of this car is 300 kilometers. Weight eco-friendly "Hummer" 3300 pounds.
In January of this year, the firm Kreisel prepared for Schwarzenegger electric version of the Mercedes-Benz G-Class. The SUV got the same 490-strong power unit and two sets of batteries with total capacity of 80 kWh. "Hundred" such car is gaining in 5.6 seconds. Without recharging "Gaelic" will travel 300 kilometers.
The car was built in a single copy. Plans to launch a series of developers is not.
Comments
comments