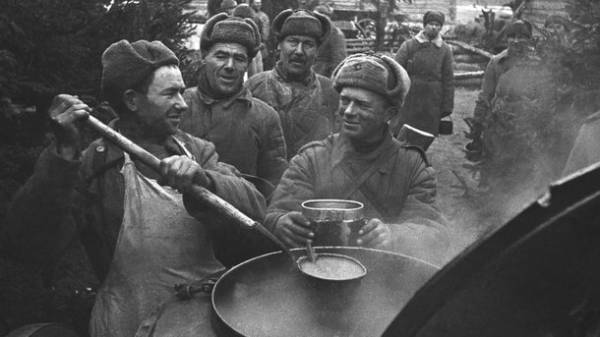 Every year on Victory Day at the monument to the Unknown soldier across the country are deploying the field kitchen, where meals are prepared, which fed the soldiers during the war. The most famous, of course, field porridge. But in fact, the diet men were much richer: they cooked borscht, and buckwheat porridge. But sometimes I had to do a compote of branches.
The field kitchen recipes with "Today" said the head of the military-Patriotic club "the frontier Guard" (Kiev), honored the search engine of Ukraine, major stock Stanislaw Malec. "I have for many years engaged in the search for missing persons in world war II. Personally "lifted" and reburied more than 200 soldiers and officers. Besides, I'm 28 years directing the club "the frontier Guard" and go on hikes with the boys. There I was useful and the recipes of military field kitchen, which I personally learned from living witnesses of that era — veterans who served at the front during world war II," says the kid. According to him, these dishes are simple and very nutritious. Which is exactly what is needed at the time.
ARMY SOUP
Ingredients (60 l):
Cabbage 1 PC.
Beets 5 EA.
Carrots 4 pieces
Bow 4 EA.
Potatoes 4 kg
Salt to taste
Stew 1 jar
Preparation (10 minutes):
This soup was cooked in an army pot 10 liter. Cooked not often — only when I had a quiet evening and could at least relax a bit, treat yourself to a home dish. "Pour water without adding to the four fingers to the brim, put the sliced potatoes, two onions cut in quarters to tail, and put on to cook. Beets cut into strips, carrots or chop also three cubes, the remaining two onions cut into cubes. All these vegetables are fried in oil, drained from cans of corned beef. When potatoes are almost ready, add chopped cabbage, Protosenya vegetables and canned meat. Give 10 minutes to cook and then add salt. Ahead: the stew at that time (and now, if you're not lucky) was very salty, and had a high probability to oversalt the dish. Another 5-7 minutes to give the dish to simmer, and then remove the coals, and a pot cover. And only half an hour, when the soup will be adjusted, begin to be treated".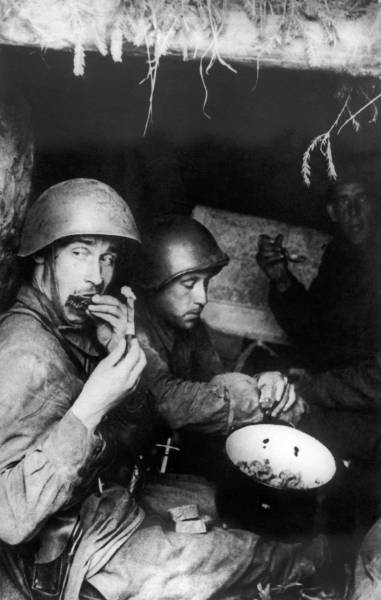 Hot soldiers could only afford during a lull
BUCKWHEAT PORRIDGE WITH STEWED MEAT
Ingredients (60 l):
Buckwheat (in army circles) 12 PCs.
Beef stew (cans of 400 g) 4 PCs.
Sunflower oil 150 g
Water (in army circles) 30 PCs.
Preparation (10 minutes):
"The cereal is not particularly fingered, thrown as it is. The stew, of course, better beef, but then had no choice. Same with sunflower oil — now it is better to replace butter, but in a war such luxury was not. Standard preparation: pour water into the tank. Add buckwheat, after a while — stew and butter. 10 minutes before end of cooking salt. Porridge — yum. Especially when you after the battle, she's hot".
COMPOTE OF BRANCHES
Ingredients (60 l):
Branches or leaves of cherry/elderberry/currants/other fruit trees and bushes
Sugar to taste
Preparation (10 minutes):
"In the field, if there was welding or jam, no one was upset that the soldiers knew that you can always gather up leaves or breaking of twigs and make a hot drink. The preparation is very simple: in a pot with water, throw the leaves and branches of fruit trees or bushes (elderberry, raspberry, cherry). Boiling water becomes red. A little provari, remove the pot from the fire, and give "tea" 10 minutes to infuse, so he absorbed the full taste of the branches, and acquired an intense dark red color. To throw sugar and the compote is ready for use! Not only delicious, but also useful for the body".
RATIONS of ENEMIES AND ALLIES: CHEESE and "SECRET WEAPONS of HITLER"
According to the norms approved by the resolution of the state Committee of defense of the USSR in 1941, daily rations of a soldier of the red army during the second world war were not especially rich: 800 g rye bread, 150 grams of meat, 30 g of pasta and the same — fat, 100 grams of fish (mostly salted and dried), 35 g sugar and 1 g of tea, 500 g potatoes, 170 g of cabbage. In rations consisted of condiments, salt, a bit of seasonal vegetables, as well as tobacco and cigarette paper. Issued and stew, but only as emergency supply.
Rations of the Wehrmacht soldiers were more balanced: 750 g of bread, 1500 g, 118 g of meat, 43 g of sausage, 17 g fat, 21 g butter, and 21 g of sugar, 16 grams of ground coffee, 143 g of vegetables, 21 g of cheese.
The "rich" were the Americans: in their Lunches, in addition to stew, biscuits, sausages, tea and cigarettes, of tablets for disinfection of water, gum and a can opener. They had a dessert — a special of 350-gram bars are high in energy density. They were made of chocolate, dry milk, sugar, oat flour and coconut fat, and they do not melt even in 50-degree heat. These bars were so bitter and unpalatable that the American soldiers called them "the secret weapon of Hitler."
Comments
comments