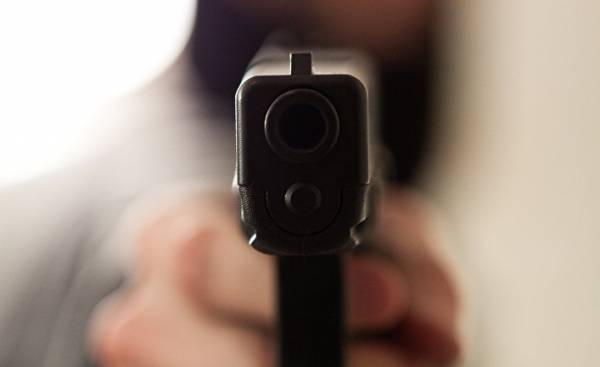 On Thursday evening in the capital's Podil shooting occurred, injuring two people. This message was published by the speaker of the police of Kiev Oksana Blischik. The details are not reported. Later, the media, and then officially in the Ministry of interior have reported that shot the couple, natives of Chechnya, who have long been living in Ukraine — Adam Osmayev and amine Okueva.
"In Podol in Kiev, there was a daring and crafty enemy's attempt on the patriots of Ukraine, participants of the ATO, volunteers in 2014, defended on the front country in the ranks of the police battalion "Kyiv-2″, — Adam Osmayev and amine Okueva. The attacker under the guise of a foreign journalist took advantage of her, allegedly wanted to interview, approached them, opened fire from a pistol and wounded Adam. His wife in self-defense and repel the attack returned fire and seriously wounded the killer. Now both with severe gunshot wounds in the hospital. At the scene police work. An investigation was launched," — said the speaker of the Ministry of internal Affairs Artem Shevchenko.
Adam Osman was born on 2 may 1981 in the Chechen capital Grozny. According to the Russian media, his parents were from "the mountain of the influential Chechens", the relatives held positions in the Supreme authorities of Russia. In 1996, the family Osmayev moved to Moscow.
In 2007, Osman was involved in the case: on the night of may 9, the FSB said on preventing terrorist attack in Moscow. It also Osmayev was suspected of three more Chechens. Russian security forces during the investigation stated that the target of "terrorists" was the head of Chechnya Ramzan Kadyrov. Unlike the three defendants, Osmayev was able to avoid real punishment.
In early 2012, Adam and his father Aslanbek were defendants in another case about preparation of a terrorist attack, but in Ukraine, in Odessa, where Osman Jr. lived at the time. Then, it was reported that his rented apartment was found "extremist literature" and a photo of the iconic sites of the city, which, according to law enforcement, Osman and his accomplices intended to blow up.
On 4 February of the same year, Adam Osmayev was detained by the SBU, and in August the appeal court of Odessa region made the decision on his extradition to Russia. This process was stopped by the decision of the ECHR: Osmayev's lawyers argued that in Russia it can be torture. Russian mass media in their materials even stated that Osman was preparing an attempt on the President of Russia Vladimir Putin. In 2014, Osman was released from prison.
Note, from February 2, Adam Osmayev leads a battalion of them. Dzhokhar Dudayev. The division takes part in the ATO in the Donbass in the Armed forces of Ukraine. Unlike his wife Amina Okueva, is a citizen of Russia. He asked about granting the Ukrainian citizenship in the spring of 2014 then acting President Oleksandr Turchynov, however, the petition was granted.
Comments
comments