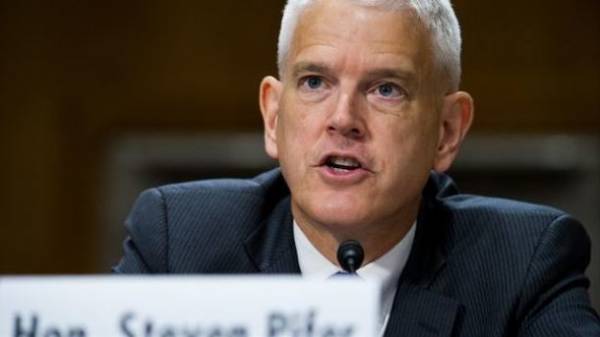 Former U.S. Ambassador to Ukraine Steven Pifer has called for two reasons should not fear more Russian aggression in connection with the provision of Ukraine lethal weapons. He told this in an interview with "Today".
According to him, there is a possibility that U.S. military aid could provoke Russia to escalate the conflict in Ukraine. However, as the diplomat said, Moscow is unlikely this will go.
SEE ALSO
Poroshenko: American weapons will help Ukraine to liberate Donbass
"We have to consider two factors. First, this escalation is holding back the Ukrainian army and the Ukrainian army is asking for the supply of lethal weapons. Second, I also believe that there is a threshold limit escalation from the Russian side. What can go to Russia? In another attack or capture more territory West and North of Donetsk? This will lead to heavy casualties on the Russian side that the Kremlin is not very pleasant. It will also lead to the risk of seizure of territory inhabited by people who do not support Russia. It will also lead to more sanctions. Yes, the risk of escalation is. But it will be a difficult choice for Russia," – said Pifer.
The full interview with Steven Pifer read here.
As it became known today from Petro Poroshenko, the US Senate approved the draft "Law on the U.S. budget for national defence in 2018". Ukraine will get 500 million in military aid from the United States.
"The bill provides for $ 500 million. military assistance to Ukraine-including lethal defensive weapons. The bill limits the allocation of half of the funds, while defense Minister (James Mattis – ed.) confirm that Ukraine has taken important steps for implementation of institutional reforms in the field of defense is critical to support the defense capability through military aid (U.S. – ed.)", – stated in the explanatory note to the adopted bill of the defense Committee of the Senate.
Comments
comments