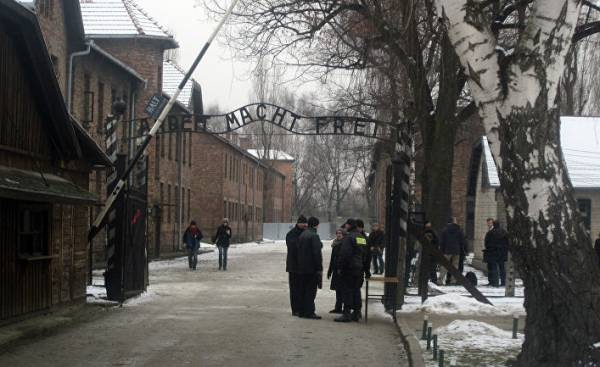 Hilde Schramm (Schramm Hilde) — the daughter of a favorite architect of Adolf Hitler albert Speer (Albert Speer).
Niklas Frank (Niklas Frank) — the son of a lawyer Fuhrer, "the hangman of Krakow".
Rainer Hess (Rainer Höss) — the grandson of the commandant of the concentration camp of Auschwitz.
Exclusive to Expressen they talk about their lives in the heavy shadow of Adolf Hitler.
Dad Niklas was secretly in love with Hitler
78-year-old Niklas Frank, the son of a lawyer of Adolf Hitler, the Governor-General of Poland, Hans Frank (Hans Frank).
On the conscience "of the executioner from Krakow," as it was called, was the death of hundreds of thousands of poles.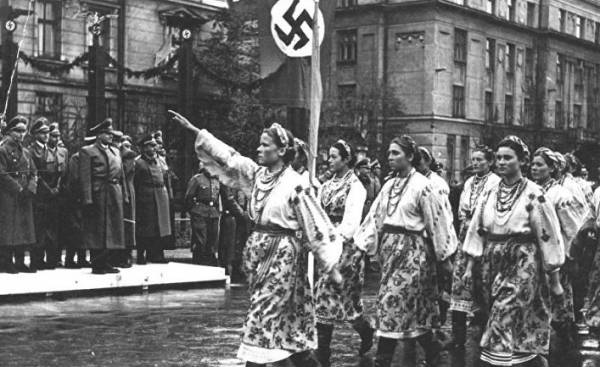 © public domain, the Parade of Ukrainian nationalists in Stanislav (now Ivano-Frankivsk) in honor of the visit of the Governor-General of Poland Reichsleiter Hans Frank, October 1941
His son tells Expressen that his father was bisexual and felt attracted to Hitler.
"He was truly in love with Hitler," says Niklas Frank.
Today Niklas Frank was the only family who is still alive.
His father Hans Frank was hanged in 1946 for war crimes and crimes against humanity in connection with the death of hundreds of thousands of poles.
The mother died in 1959, after which brothers and sisters died one after another: brother Norman became an alcoholic, sister of Birgitta committed suicide when she was 46, and her eight-year-old son was lying beside me in bed beside her, and his brother Michael died of heart problems at the end of a long life under the sign of gluttony.
Niklas Frank previously worked as a journalist in the German newspaper Stern and has written several books, including "Father" ("Der Vater"), in which he condemned the father.
In an interview with Expressen it is a lot of detail and talks about how life was the child of a Nazi.
"Our family lived in incredible luxury, on the walls hung paintings of Leonardo da Vinci, we children have always received expensive gifts from those who came to visit and went to the best "Mercedes". We thought Poland belonged to the Pope."
But the problems in the Nazi house was also.
"The Pope was bisexual, and was attracted to Hitler, in addition, he had a mistress, and after 1942, he wanted to divorce mom. But she decided to fight, including sending their baby pictures Adolf Hitler Hitler forbade them to divorce".
"My mother also had a sexual relationship with a best friend of the Pope, which later on the orders of Hitler were executed on Heinrich Himmler. Dad thought I was her son's lover. It did not take me as a son and was often called "fremdi" ("stranger")".
Niklas Frank says that before he published his book, it was well received in Germany, even when he was told who his father was.
"A poor man once even gave me their food. I had solid advantages."
But after the beginning of sales of the book had problems.
"My brothers and sisters hated me," he says.
Today it is disturbed by extreme right-wing movements in Europe, and he doesn't trust even their own people.
"We have not learned anything over the 12 Nazi years, we continue to be cowards, he says, and sighs. But we are world Champions in football."
Grandfather was responsible for the deaths of over a million people
His grandfather was the dreaded commandant of Auschwitz Rudolf Hoess (Rudolf Höss).
Father was raised a Nazi, and he told my son the truth that his grandfather was responsible for the deaths of 1.1 million people.
Today, he completely renounced his father.
"If my grandfather had a grave, I would have spat on her," says the grandson of the commandant Rainer Hess, 52.
Rainer's grandfather Rudolf Hoess was the commandant of Auschwitz and was sentenced to death for crimes against humanity.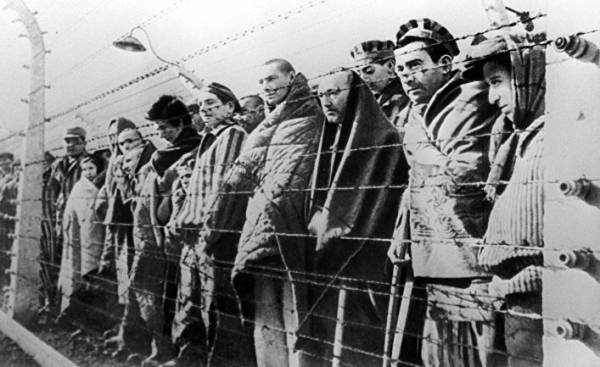 © RIA Novosti RIA Novosti | go to fotobounce the Auschwitz concentration camp, liberated by the red army in January 1945
He was hanged opposite the camp crematorium on 16 April 1947.
Now, when Rayner sees a photograph of his grandfather hanging on the gallows, he feels satisfaction.
"I feel joy. I know he was hanged, and his life is over."
To 15 years, Rainer did not even know that his grandfather was the commandant of the terrible.
One day his father lied to him when he asked a question, but a dreadful truth was revealed when Rainer was 15.
When the father, who was then working with seller Volvo in Gothenburg, was on a business trip, mom gave him some history books that were in the house, and the awakening was a real shock.
"It's a feeling words cannot describe. Nobody wants to be the grandson of a serial killer," he says.
Rainer Hoess left home and subsequently met the father only once he was 18.
"He hit me, but I fought back, and for the first time in my life I saw fear in his eyes. I had enough".
He also met several times with his grandmother, the wife of commandant Hess Hedwig (Hedwig Höss).
"When she entered the room, immediately became very cold. It's like she still was the wife of the commandant. It was like some kind of dictatorship. She always said Hessa never cry".
But in 1989 the grandmother committed suicide in Washington in the United States.
"I'm sure she took cyanide capsules. Many times I have seen these capsules in her jewelry box, and she had a Rudolph hair, which she cut off before he was hanged, and their wedding rings," said Rainer Hoess.
Now he's a teacher, has written several books and leads students on tours of Auschwitz.
"Entering the house of my grandfather in Auschwitz, I never touch the stuff. So I prefer to handle the situation," says Rainer Hess.
As the son of Governor-General Hans Frank, he is concerned about the rise of right-wing extremist forces in Europe.
"In France — Le Pen, in the Netherlands — Wilders, in Sweden, as far as I know, the right party "Swedish Democrats". And in Germany we have NPD. They grow slowly, and it scares me," says Hess.
The daughter of the architect of the Third Reich took the refugees into your home
Albert Speer was the architect of Adolf Hitler and the author of monumental construction projects of the Third Reich.
After the war he was sentenced to 20 years in prison.
His daughter, Hilde Speer, who is now 80 years old, lives a very different life.
"I opened my home to refugees," she says.
Albert Speer was a major architect of the Third Reich.
Along with Fuhrer Speer created the plan of the city of Germania, which was to replace Berlin in the role of capital in the planned Hitler and the world state. In addition, in the country of the Nazis, he was Minister of military industry.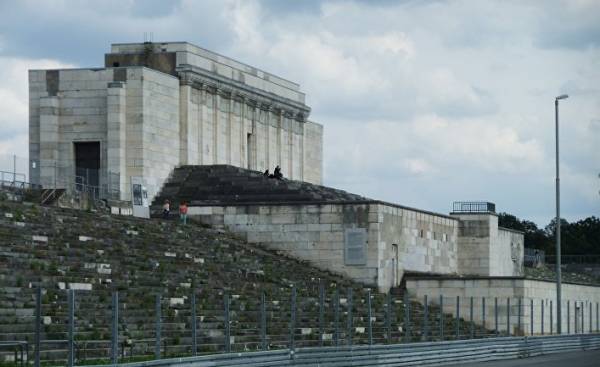 © flickr.com Glen BowmanТрибуна Zeppelin in the Bavarian Nuremberg is a classic example of Third Reich architecture. Lead architect — albert Speer.
At Nuremberg Speer was sentenced to 20 years in prison, and he served his sentence in Spandau prison, where among other also sat Rudolf Hess (Rudolf Hess), the Deputy of Hitler in the 1930-ies.
In 1966 it was released, and then he disappeared from public attention.
For several years he wrote a book called "Third Reich from the inside", through which rich.
Speer died in 1981 during a trip to London.
The architect Hitler had six children, and all he is still alive, and one, albert Speer, Jr., also became an architect.
One of his daughters, Hilde Schramm, University Professor at retirement. Now she's a widow and provides his house in Berlin the refugees.
"When in Germany arrived refugees, and they had nowhere to go, I opened to them his house, because I have a lot of prostranstva, I gave them a good place to live. They are friendly and sensitive people, we like each other, so they still have me live," says Hilde Schramm.
Expressen: are They paying you?

Hilde Schramm: the state pays Me, and the amount is sufficient, others ought to help. It's nothing special.
— You had to suffer due to the fact that you are the daughter of albert Speer?
— No, but I understand you're going to ask me about dad. I about it have said it all. I have my own life.
She also founded the organization "the Return" ("Zurückgeben"), whose mission is to help Jewish women financially so that they could study art or science.
The British newspaper the Guardian she had said that she refuses to feel guilt for what her dad did when the country was dominated by Nazism.
"You know, I was just a kid. How can I feel guilty for what he did or who he was at that time."
Comments
comments