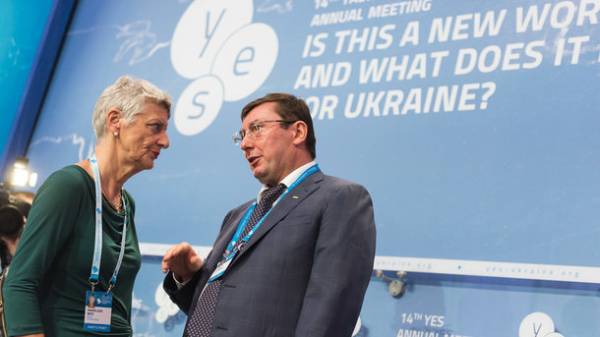 The General Prosecutor of Ukraine Yury Lutsenko declares that for the year the Prosecutor's office detained about 7 thousand bribe. He said this during a speech at the 14th annual international conference of the Yalta European strategy (YES) in Kiev today.
"Today, we have detained in our Ukraine 6931 bribe, of which 3934 as of now are in the courts," – said the Prosecutor General.
"Colleagues, once again – 4000 corrupt officials without the 66, but we fast for a month will make up for it, are in the courts. This figure, which can be proud of the whole system. It is very important that this applies not only to petty officials, members of the High Council of justice, we are talking about the heads of regional state administrations, ministries, public services and ordinary officials, because each trick is broken chain, torn vessel drinks the blood of the Ukrainian society", – Lutsenko added.
According to the Prosecutor General, in Ukraine the average daily delayed and submitted to the court three bribe.
"The day we return 200 hectares of stolen land… such land was returned 75 thousand hectares", – he stressed.
Earlier, Yuri Lutsenko said that the investigation in almost all cases with respect to the environment the former President of Ukraine Viktor Yanukovych.
Yalta European strategy (Yalta European Strategy, abbreviated as YES forum) is an annual conference organized by the Victor Pinchuk Foundation.
The conference gathers the most influential politicians and businessmen of Ukraine and the world, it has been held annually since 2004.
HELP
Yalta European strategy YES: what you need to know
The aim of the conference is the development of Ukraine and its European future, as well as establishing international ties.
The founder of the Yalta European strategy, Victor Pinchuk, a prominent Ukrainian businessman and philanthropist.
Comments
comments